CHITKARA INTERNATIONAL SCHOOL STUPENDOUSLY REGISTERED 100% RESULT IN GRADE 10 CBSE BOARD EXAMINATIONS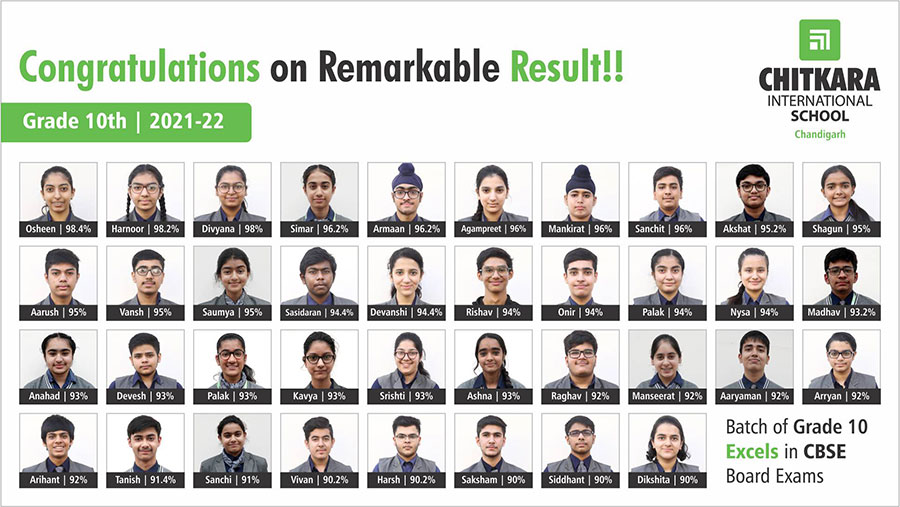 The diligent and industrious students of Grade 10th of Chitkara International School meritoriously attained 100% result in the CBSE Board Examinations 2022. This marvellous achievement of the school palpably voices the fact that the school is the perfect amalgamation of both academics and co-curricular, providing the students with a holistic educational environment.
With an astounding 98.4%, the prodigious orator & MUNer, Osheen Mahajan has bagged the first position in the school followed by the all-rounder and CEO of her house, Harnoor Kaur with 98.2% and extraordinary presenter Divyana Garg with 98%. The multitalented Simar Kaur Sahni and technology enthusiast Armaan Singh Walia, both registered 96.2%. Furthermore, Agampreet Kaur Sohal, Sanchit Agarwal and Mankirat Singh Kamboj seized an admirable 96% and Akshat Salgotra attained 95.2%.
The 95% club comprised scholarly members, Aarush Aggarwal, Shagun, Saumya Sharma and Vansh Sharma. Moreover, exhibiting pure conscientiousness and erudition, almost 59 students fantastically seized 85% and above, making the school extremely overwhelmed. Besides this, the Artist and Student Cabinet member Saksham Yazu Talwar and Studentpreneur, winner of Diamond Challenge and patent owner of Agronic Culture, Arryan bagged 90% and 92% respectively.
Enunciating her profound thoughts on this momentous occasion, Dr Niyati Chitkara, Director, Chitkara International School stated, "It is a moment of pride for the entire Chitkara Fraternity, as the academic year 2021-2022 culminated with spectacular results. With the unequalled collaboration of assiduous pupils and scholarly faculty, the persistent efforts put in by both have paid off effectively. It goes without saying that the impressive 100% result of grade 10 students, indeed speaks volumes of their sheer determination and assiduousness".