School Leadership
Chitkara International School takes pride in its excellent team of educationists and has outstanding achievements in their chosen fields.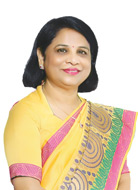 Dr. Madhu Chitkara
Chairperson, Chitkara International School
A teacher by heart with quest of excellence in mind and education as a mission of life -describes Dr. Madhu Chitkara. Her journey started as a teacher of Mathematics, currently holding the position of Vice Chancellor of Chitkara University, Punjab, Pro Chancellor of Chitkara University, Himachal Pradesh, Chairperson of Chitkara International School and Co-founder of Chitkara Group, an organization of great repute & distinction. An eminent academician, an innovative entrepreneur, she has articulated and designed the road map for the Group. She has actively contributed to its tremendous growth and recognition in all these years and is spreading light of education in the life of tens of thousands of people. Education is her aim and she is strongly committed to contribute in building India – a knowledge society.
With a passion for academics and great business acumen, she has had a diversified career & variegated experience in the field of education spanning 42 years. She is one of the few lady Vice Chancellors of Punjab & Himachal Pradesh. She is highly knowledgeable, focused, a strategic leader & has a passion for excellence.
She has adeptly managed numerous academic ventures and remains a true leader who leads by example, is warm, sincere and always willing to walk the extra mile to deliver on promises. Her support to several humanitarian causes in association with many NGOs is indeed a tribute to her philanthropic nature, her zest for life and her desire to transform lives for the better.
Dr. Chitkara, fuelled with a Bachelor of Science (Honours) in Mathematics, Bachelor of Education, Master of Education, Master of Science in Mathematics and a Doctoral degree in Education has relentlessly worked towards developing and providing an environment which offers the best of teaching & learning pedagogies for the learners.
She has contributed to the field of education in a unique way that is worth applauding and stating. She was appointed as a resource person for imparting knowledge of content and implementation of National Educational Policy to all teachers of Chandigarh Schools in 1984. During the launch of BBC Micro computers in India, she was instrumental in giving trainings and imparting knowledge of CAI (Computer Assisted Instructions) to all the stakeholders of Chandigarh Administration. She has been instrumental in creating more than 61 relevant industry-linked programs in the fields of Hospitality, Communication and Pharmacy at graduate, postgraduate and doctorate level. Each program is supported by Industry. Her contribution also extends to building an incubation Centre for the students having an entrepreneurial mind with more than 60 countries in place which are running successfully.
Dr. Chitkara continuously works towards enriching the learning experience of the students starting from pre-primary level to doctoral level and devise methods of successful transformation from one level to another keeping in mind the demand of the changing & demanding industry. One such initiative conceptualised by Dr.Chitkara is Tek-8 for the school students. It is a joint effort of University & Schools' Research Team to overhaul the technology curriculum for the students for grade 1 to 8 comprising of Mobile Application, Robotics, Electronics, Automobiles, Energy & Household Technologies. Dr. Chitkara's passion for providing an apt learning experience to the students is clearly evident from the fact that she developed & assembled the kits for Tek-8 program herself.
Skill Development has been one of the important areas of work for Dr. Chitkara at school as well as University level. She conceptualised Co-curricular Squads at Chitkara International School to identify and hone the skills of school students with the help of Chitkara University Faculty, Students & Alumni. Squads run at the school are in the areas of Drama (Rasa Squad), Science (Big Bang Squad), Technology (Techplore Squad), Dance (Movers & Shakers Squad), Art (Palette Squad) Photography, Animation & Media (Animedia Squad), Hospitality & Grooming Squad, Sports (Rock Steady Squad), Scrapcraft Squad and Music (Dhwani Squad).
With the creative mindset, she established CURIN (Chitkara University Research & Innovation Network) a network of people who explore, innovate and think differently. She has built a strong network with 160 Universities and Institutions all across the globe covering USA, UK, France, Germany, China, Japan, Taiwan, Singapore, Australia, and many more to make the students globally acceptable and capable. It is her constant endeavour to create the strong Industry linkages to bring the best of employment opportunities for the young graduates in the companies of repute such as Infosys, Amazon, Mahindra, Fortis, Safexpress, SAP, Deloitte, Morgan Stanley, Ernst & Young & many more to count on.
Dr. Chitkara's visionary thinking led her to design a globally acclaimed event; Global Week, which is a footprint of Global Engagement at Chitkara University and one of the best ways of Internationalising the student learning experience. This event serves as a catalyst for infusing cross-cultural competence, industry linkages, knowledge transfer as well as a phenomenal networking opportunity. Chitkara University has been continuously hosting this event for a decade now under the able guidance of Dr. Chitkara where eminent faculty members are invited from across the world to teach predetermined short module courses to university students across all disciplines.
For her endeavours, Dr. Madhu Chitkara has been felicitated with State Sward for Teachers in public recognition of valuable services to the community as a Teacher of Outstanding Merit in 1987. The Rashtra Nirman Ratna Award 2002 by Economic Growth Society of India, New Delhi was her another achievement. She also received Rashtriya Shiksha Ratan Award 2003 by All India Business Development Association, New Delhi.
Dr. Chitkara was bestowed with 'The Life Time Achievement Gold Medal Award' 2004 by Global Society for Health & Educational Growth, New Delhi. Also, The International Gold Star Millennium Award and Rajiv Gandhi Shiromani award by Global Economic Council. State Award For Teachers in public recognition of valuable services to the community as a teacher of outstanding merit fell in her lap for her unparalleled inputs. In November 2008, she along with one of her key team members visited various top Universities of the US from panning from Boston to Seattle with the intention of bringing about a massive change in the way education is viewed in the Nation. She visited The Georgia Tech University, University of Massachusetts (Umass), Purdue University, Massachusetts Institute of Technology (MIT), University of Southern California, Harvard University and the University of Washington. Dr. Madhu Chitkara met and shared her knowledge with representatives from eminent Universities in the US like Lawrence Tech University, Rowan University, Laureate Education Inc, Northern Illinois University, University of Puerto Rico, University of Central Florida and many more.
This prolific visit had a one-point agenda to imbibe and assimilate the best available practices of the western education scenario and to initiate a more progressive educational environment. Soon after this visit, she was invited to attend the Clinton Global Initiative in Hong Kong (Dec 2008) with an opportunity to interact with Asia's most influential leaders and to deal with the region's most pressing issues.
For incredible contributions in the field of education, she was awarded 'International Achiever's Award 2009 for Women Entrepreneur. Also, on 8th March 2011, she was titled as one of "India's Most Inspiring Women Engineers & Scientists" on International Women's Day.
Dr. Madhu Chitkara was honoured with South East Asia Award for being one of the most Successful Entrepreneurs by Washington School of Business through its Hot Mommas Project. Hot Mommas is the World's Largest Library of Women Entrepreneurs Case Studies managed and initiated by Washington School of Business, University of Washington. Dr. Madhu Chitkara is the only Winner in South East Asia to get this award.
Her constant efforts to brush the young brimming talent has helped her to fetch "Nurturer Of Talent Award" during 2nd Asia's Best B-School Award Function on 22nd July 2011 in Suntec Singapore and "Nurture of Talent Award" during 19th Dewang Mehta B-School Awards held at The Taj, Lands End, Mumbai.
Dr. Madhu Chitkara was conferred with Visionary Leaders Award & Inspirational Leaders Award by Bloomberg/UTV. Moreover, she was felicitated with Innovation Leadership Award by DNA & stars of the Industry Group, Canada. Among her unending achievements were also "State Award -Women of The Year -2012, In Business & Profession Category by Dainik Bhaskar and Certificate of Excellence for Outstanding Achievers Award – FICCI – FLO 2013-14 by FICCI Ladies Organisation, New Delhi. She was also facilitated with Edupreneurs jury choice award 2013 for her contribution in creating an eco system for conceptualizing and implementing innovative projects at Chitkara University. She was also invited as one of the key speakers in World Education Summit 2013 in a forum organized by Digital Learning.
Under her leadership aspect, Chitkara University is the highest ranked university among all universities, i.e. we are once again No.1 in Punjab, HP, J&K and Uttarakhand. This further helped Chitkara University break into the top 10 universities in North India by being placed sixth on the rank list. Dr. Chitkara's persistence in pursuing excellence in the field of education aided in Chitkara College of Pharmacy being ranked 17th amongst more than 500 Pharmacy Institutions in India by AICTE-MHRD – NIRF – ranking released first time by MHRD on April4,2016.
Dr. Chitkara was invited as an eminent speaker, at India's largest education brainstorm conference – Global Educators Fest 2017, Gurugram, where she shared her valuable views through a Panel Discussion, on the topic "Higher Education Institutions incorporating skill development in their curriculum", moderated by Price Water House Coopers (PWC).
Her eye for detail and to cater the students and faculty with the clean and green environment,helped Chitkara University attain a position among top 3 cleanest universities of India in the Swacchta Ranking 2017 by Govt. of India, MHRD. She has been instrumental in making Chitkara International
School a Green School by establishing innumerable initiatives for environmental sustainability and optimum use of facilities which are nature-friendly ranging from Rain Water Harvesting, Paper recycling, Paperless Working & Communication Mechanism among stakeholders, Waste Management System, installing energy efficient equipments, Solar Panels, solar lights and Incinerator machine.
She brought a big breakthrough with her managerial expertise to Chitkara Business School as it has been placed 64th in the rank among the top 100 B-Schools in India in recent B-School Survey 2018 by Outlook India Magazine. Also, Chitkara School of Hospitality was ranked 14t h in India's Top Hotel Management Colleges by Outlook India Magazine. Chitkara School of Hospitality was also conferred with a certificate of Excellence in the category of Best Institute among Private affiliated Institutes by Government of India, Ministry of Tourism and National Council for Hotel Management & Catering Technology.
She has been recognized as visionary EduLeaders and Edupreneur of India by Sri. Pranab Mukherjee, the former President of India for envisioning & eventually creating a University structure whereby everybody including Deans, Administrators, Teachers & Students are empowered with right set of decision making capabilities.
Adding another bit to Dr. Chitkara's numerous achievement is Chitkara University Institute of Engineering & Technology (CUIET) once again being ranked high in several parameters in the Top T­ Schools 2018 by the Dataquest (DQ) -CM R Survey, June 2018.
Her fluent international connect aided her presence across the globe. She was invited to the House of Lords with Anglia Ruskin University, London, EPFL, Lausanne, Switzerland and VC's Meet in IYF World Camp, South Korea.
Under Dr. Chitkara's umbrella, Chitkara University has built a formidable reputation in creating an innovative eco-system by weaving a fabric of various engineering exploration courses and programmes. Adding to it is the establishment of R&D and software engineering centre, infosight Center for Innovation in University campus.
With new fields of knowledge emerging, Dr. Madhu Chitkara ventured into the arena of patents. Chitkara University has filed 156 patents with 1000 + research publications. She has a strong preference for working towards the creation of knowledge in specific areas. She is actively creating avenues to bridge the gap between the industry and academia by incorporating more application based courses wherein both the Universities can provide the companies with students who are ready to take on the responsibilities endowed upon them. Chitkara's education provides the foundation and specialised knowledge necessary to analyse, design and evaluate systems that are useful to the society.
Despite achieving phenomenal success in the field of education, she had a desire to do something for those who were not very privileged. Accordingly, she prevailed upon the heads of her institutions to adopt villages in the vicinity of their organizations. Villagers, mainly women were given the training to pursue vocations that could provide livelihood to them. Care was taken to ensure that the products manufactured by them found use in educational institutions. The items produced by these cottage industry level enterprises were purchased by Chitkara people thus relieving the villagers of the burden of marketing their produce. The Group under the proficient chairmanship of Dr. Madhu Chitkara has adopted nearby five villages through NSS, and provides free education to the children, and opportunities for self-employment to adults. Women are involved in stitching and fabrication of uniforms which helps them become financially self-sufficient. The Group also provides health awareness programs in addition to extending health facilities to the villagers. A computer centre has also been established in the adopted village in order to create awareness amongst the residents about the latest technology. Chitkara Radio 107.8 Fm, Chitkara University's Community Radio has also been started and been effectively used for the upliftment of rural communities.
Content and Language Integrated Learning (CLIL) – Language Research and Training Centre "Language Talkies – the native way" under the CLIL@ India initiative of European Union's Erasmus + Program me was inaugurated by Dr. Madhu Chitkara on 10th November 2017 at Chitkara University, Punjab to provide a platform like a language lab to enhance the different language competencies & skills. She has also been instrumental in spearheading another prestigious Erasmus + project; OCULUS. It is a consortium of educators from optometry schools in Europe (Norway, U K, Spain and the Netherlands) with the aim to reform optometric education in Israel and India towards European standards. This will provide greater employability and job mobility for graduates, while better-trained optometrists will lead to a reduction in blindness and vision impairment. Adding to one more prestigious project; Risk Management and Prevention of Antibiotics Resistance (ABR) funded by Erasmus+ project; aims to create awareness and dissemination on increasing incidence of ABR, current scenario, associated risks and management schemes to thwart ABR to maximum population at national as well as international level by end of 2022.
She truly reflects an image of a women entrepreneur who is breaking stereotypes. It was in recognition of her excellent work in the field of education and genuine contribution to society that she was presented with the title "Women with Substance". Dr. Chitkara was felicitated with the Jury Award during TLJ Women's Achievers Awards 2019 ceremony hosted by The Lifestyle Journalist magazine. During the panel discussion, she shared her inspirational life story and her take on life, business and family. Through her empowering dialogue, she stunned the listeners and inspired them at the same time. She has recently received an award of honor organized by Chandigarh Commission for Protection of Child Rights (CCPCR), Department of Environment, Chandigarh Administration, State Legal Services and Authority U.T. Chandigarh during 1st Children's Peace Fest – CPF 2019.
Her quality of steering the educational ecosystem with sheer robustness and rendering the newfangled opportunities to the students and staff, helped Chitkara University secure the award of 'Outstanding University in India for Placement 2019' by CEGR – Centre for Education Growth and Research; during the Inaugural Summit of Indian Education Festival. Besides this, BRICS International Forum & International Federation of Indo-Russia n Youth Clubs, jointly presented Dr Madhu Chitkara, with the 'Award of Honour for International Digital Leaders' during the program 'Vision For Future- 2019. The award was presented under the aegis of Ministry of Social Justice & Empowerment (Govt. of India).
Moreover, Dr Madhu Chitkara was featured on the cover page of 'Silicon india Magazine's' June 2019 issue; for continually empowering and unleashing the hidden potential of budding Architecture and Design experts at Chitkara School of Planning & Architecture. The Magazine has listed Chitkara University among the best Universities for Architecture Education in 'Top 10 Most Promising Architecture Colleges' and written a spectacular cover story highlighting Chitkara University's vision, best practices and future plans for Chitkara School of Planning & Architecture. Apart from this, she also got featured on the cover page of 'Higher Education Review Magazine's' July 2019 issue with a cover story on Chitkara University titled, 'An epitome of excellence in the field of education' for its contribution to building a skilful society – marching ahead with the objective of inculcating high moral, ethical and professional standards among students.
Being an articulate and eloquent speaker, Dr Madhu Chitkara addressed the august gathering of politicians, media professionals and actors on "Mahatma Gandhi's concept of education, which is of quite a significance in the contemporary situation" during a panel discussion at Gandhi Mandela Peace Initiative organised by the Business World, Sunday Guardian Foundation and RBP Foundation. Also, was a leading speaker in one of the grand events for the School Principals on "Mind Matters A Paradigm Shift" organized by The Tribune. The session emphasised on the importance of soft skills in career life and the significance of the meditation in Schools.
Dr. Madhu Chitkara continues to be an inspiration around the world and her acumen will keep her at the pinnacle of success. She also pumped her creative juices in research papers and journals. Despite being a woman she has shown great determination and motivation to achieve her goals. Her penchant for equity and access, a desire to abide by a value system and to stick to an ethical path have enabled her to create a brand name -Chitkara -in the field of education.
The acronym of her name, M – Motherly, A – Architectural Heart, D – Dedicated Developer with a Midas Touch, H -Humane, U -Unique & Understanding and meaning of her surname Chit -(Mann in Hindi) Heart, Kara – (Karam in Hindi) Deed is self sufficient in describing her warm and enthusiastically contagious personality. She is leading a change as her progressive mind never stops hunting the needful information and opportunities to hug and execute with all openness in mind and heart. Thus, unfurling and playing a lead role in defining and determining the educational discourse.
Links:-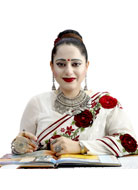 Dr Niyati Chitkara
Director-Schools, Chitkara International School
Author: Assessment Quotient
Dr Niyati Chitkara is Director of the Chitkara International School (Chandigarh and Panchkula). She is the generation next educationist, who believes in developing a learning centered approach and a positive learning environment in which every student can experience success and challenges. She visions to create a sense of integrity; dignity and confidence amongst young learners so as they are ready to face life's challenges.
Dr Niyati Chitkara has completed her doctorate in school based assessment including the Continuous Comprehensive Evaluation. She holds 16 years of experience in the field of education. Her educational accreditations includes; an M.Ed. topper from Panjab University, one of the top ten rank holders during her Bachelors of Education and a gold medalist in Masters of Commerce and Business Administration. She is also an external expert for Board of Studies of Bachelor of Education (B.Ed) at Chitkara College of Education. She has written a book "Assessment Quotient – Efficient and Effective School Learning Paradigms for Generation Z and Generation Alpha Learners", published under Germany's renowned house and well famous publishing house, 'Lambert Academic Publishing'. Dr Niyati is a certified IB Trainer for Primary Year Programme, certified lnlingua Trainer; who headed Inlingua International School of Languages, Chandigarh in the past. British Council has certified her as a trainer for Business English Courses and Infosys also certified her as a trainer for its Campus Connect Programme. CAER (Center for Assessment Evaluation and Research), Pearson, recognized & certified her for designing rubrics for assessments and multiple choice item writing. Dr Niyati was one of the fourteen speakers at the CBSE-CAER International Conference 2014 in New Delhi. She was also invited as one of the key speaker in a forum organized by Funtoot on "Personalized Learning".
Under her expert guidance and leadership, CIS was chosen as a case study school by Cambridge International Examinations. She has been an invited panelist in School Leadership Summit 2015 organized by Digital Learning. Leadership qualities and path breaking initiatives for the cause of education, the Academic Council of Science Olympiad Foundation bestowed upon the award of "The Best District Principal for the year 2016-17.
Her research papers on "Confidence Level in Multiple Choice Tests Leading to Increase in Reliability and Decrease in Standard Error of Measurement" and "Assessing Scholastic and Non-Scholastic areas of learning" were covered in International Journal of Information Technology and Business Management and Educationia CONFAB respectively. The research done by her has been primarily in the area of school assessments.
Her papers on "Corporal Punishment" and "Future Classroom" made her gold medalist in her Masters of Education Programme. She also submitted a dissertation on "Occupational Stress of teachers teaching under graduate classes in relation to their emotional intelligence". Her innovative and distinct approach in providing global platform for students made her a Bill Gates & Melinda Gates Scholar in TEDActive 2014 Conference in Canada.
Dr Niyati Chitkara has been chosen amongst "33 Young Rising Stars of Indian Education" by Education World. Leading Chitkara International School strongly on innovation and research, she is the only Principal listed out of Chandigarh and Panchkula schools, on the Education World cover story. Bringing fresh energy, management expertise and inherited knowledge into today's ever evolving education ecosystem, Dr Chitkara has joined this elite group of young, highly-qualified and business savvy Indian Edupreneurs (Education Entrepreneurs).
Dr Niyati has also conducted many workshops on child development too. Her thoughts on school education were recently covered in QUEST-an initiative of The Indian Express. Print Media and Doordarshan have also covered as the Top Shot and Young Entrepreneur of Chandigarh respectively. She is instrumental in organizing a lot of Faculty & Management Development Programmes for the school fraternity of Chandigarh, Panjab, Himachal Pradesh and Haryana in association with Educational Leadership Centre, Chitkara University. She has organized Education Leadership Workshop for School Leaders on "Teaching makes a difference" inviting eminent mentors from Cardiff University. A similar workshop on Teacher Leadership Skills by Max Coates from The Institute of Education, University of London, was also organized by her. She was invited as one of the speakers in a panel discussion on Levelling the playing field: classroom technology for all at EduTech Asia 2016, Singapore. Also, she headed a 90-minutes round-table discussion on the topic: Shaping Portfolios for the Digital Learners at EduTech Asia 2016. Recently, Dr Niyati Chitkara represented India in one of the International Leadership Exchange Program focusing on Adapting and Implementing CUL (Content and Language Integrated Learning). She represented Chitkara University in the first intra-consortium CLIL camp in Ciudad Real, Universidad de Castilla La Mancha University (UCLM), Spain. The kick off training meeting was held for Developing Content and Language Integrated Learning – Resource and Training Centre for a multilingual India (CLI L@India under the Erasmus+ Project).
Adding another bit to Dr Niyati Chitkara's numerous achievement is 'Joining the Dots: what makes an innovative school?' an article written by her, published by Teacher Magazine (The International Education Magazine published by ACER- Australian Council For Educational Research) in its October-December 2017 issue. It talks about the International Best Practices for students. 'Digital School inside the School' is a cover Story of digital LEARNING magazine, March 2016 issue, written by Dr Niyati Chitkara. The magazine also featured the coverage of "The Digital Education Summit" wherein CIS got awarded as one of the Best schools in India. She was also interviewed by Range Bahar, aired on channel 107.2 FM for her views on current educational practices.
She was invited as one of the key speakers in the panel discussion of Indian School Awards 2018 powered by Times of India and organized by Robochamps. The convention was centred towards technology education, apt gadgets and building innovative mindset among school students and sowing the seed of entrepreneurship right from the school years of a child.
Dr Niyati Chitkara was the first one to partner with Canadian Early Childhood Development Programme in India with an intend to initiate the same at Chitkara International School. Also, for the same she ardently participated in teacher training workshop on early childhood programs organized by Maple Bear Education Pvt Ltd.
Under the assiduous umbrella of Dr Niyati Chitkara, CIS received accreditation by the Quality Council of India (QCI) after being assessed and found to be complying with NABET requirement as per Accreditation Standard for Quality School Governance. The Accreditation Certificate was presented to her by Member of Parliament and CEO of NITI Aayog in the presence of more than 800 delegates. Chitkara International school has also been ranked as one of Top 3 schools in Chandigarh City Rankings amongst "Top Schools of India–Ranking 2016" by Digital Learning.
She is fervently instrumental in setting up an Office of International Affairs at School level and bridging it up with Chitkara University along with other universities across the globe. Currently, she is closely working with universities like Macquarie University, Australia, Vancouver Island University, Canada, Glasgow Caledonian University, Scotland and Deakin University, Australia.
India's leading human development magazine "Education World" covered the stand point of top 40 principles and higher Ed leaders on mending Indian education. Dr Niyati Chitkara, being one of them marvellously articulated her lucid take on contemporary Education System along with suggesting ways and means to muddle through the empirical predicament that accosts Indian Education. She also shared her thoughts and her edifying journey through an interview on "Just Candid" by Chitkara Studio. Her constant efforts and undaunted strength helped the most prominent school of Chandigarh, CIS attain two times in the row the crown as one of the Top 50 Future Schools in India under the National category in Future 50 Schools Shaping Success award organised by University and Fortune India. Also, CIS achieved "School excellence award" at 5th National conference on teaching, learning and leadership organised by Brainfeed, one of the leading magazines targeting the entire education system. The school was awarded for best implementing PBL, infrastructure, innovative practices and influential brand school. She undertook many outreach programs to help community and sensitize students and teachers towards addressing issues concerning community development. She has also been a part of the student exchange programs with Government School, Dhanas and various health programs initiated in nearby government schools to spread awareness about health and hygiene. Moreover, another felicitation on CIS was the district level Swachh Vidyalaya Puraskar 2017 by Ministry of Human Resource Development, Government of India under the initiative 'Swachh Bharat Swachh Vidyalaya' (SBSV). Member of the Lok Sabha and Indian actress Kirron Kher accorded this award to Dr Niyati Chitkara. Recently she brought a big breakthrough for Chitkara International School, as through her constant hard work the school entered into the coveted League of Futuristic Schools of India 2018. Also, it got 'Netaji Subhash Chandra Bose Acclamation' by ReTHINK INDIA, for Internationalisation of India's Education 2018 and Sir C V Raman Award for Applied Physics by ReTHINK INDIA for best Learning Ambience, deemed possible because of the efforts of Dr Niyati Chitkara.
Under her leadership aspect, Chitkara International School has been awarded as "New India Champions" in the field of school education by rethink India. For incredible contributions in the field of education, Dr. Chitkara also received the title of "Progressive Principal of India" by rethink India. It is a pan India award conferred on Principals who are Progressive and have Innovative ideas at the core of the heart. Dr Chitkara has always made every endeavor to devise the educational framework of the school that suffices the appetite of students in the most creative way possible. It is because of her exemplary contribution and attributes like such that she was invited to a panel discussion at The IDA Connect Conference as a panellist among other notable members from institutions like IBM, Robomate, Shemford Group of Schools etc. The theme of the conference was 'Education 4.0: Reimagining & Transforming Learning Environments'. The discussion centred on various topics like curriculum and what the students learn, innovative pedagogies and how learners are taught. Dr Chitkara remarkably expressed her point across and carved a niche of progressive disposition.
Her constant focus on investing in the future of children through programs that deck them with skills and tools, directed CIS to fetch applauses for its best practice of "twining model- sharing of resources on environment and value culture" by Chandigarh Commission For Protection Of Child Rights (CCPCR).Under her aegis, CIS was also titled among India's Best 10 International Schools for 2018 by Knowledge Review Magazine in its October Issue.
Being an articulate and eloquent speaker, Dr Niyati Chitkara, addressed more than 175 international delegates from 18 different countries on the topic "Transformation in Education: Vision 2030" at International School Awards (ISA) 2018 ceremony and conference held at Dubai, UAE. She also enlightened more than 200 international delegates from 12 different countries, through her views on the topic "Teachers and School Education" at International School Awards (ISA) 2019 ceremony and conference held at Chitkara University, Punjab Campus. Apart from this, she also got featured in business sight magazine's July issue and Chitkara International School as one of the most trusted educational institutes of the year 2019. Dr Chitkara's effort of imparting inter-cultural international education was also recognised by venerated British Council and Chitkara International School was thus accredited with International School Award 2019-2021 for "Outstanding Development of International Dimension in the Curriculum".
Dr. Niyati Chitkara was also one of the dignitaries who graced the ocassion when His Holiness The 14th Dalai Lama was presented with an Honorary Doctorate, Doctor of Literature (D.Litt.) Honoris Causa, by Chitkara University (CU) in honour of his unparalleled and invaluable contribution to Humanity, World Peace and Education, and in recognition of his outstanding achievements in promoting peace globally and for inspirational spiritual guidance and leadership. Other dignitaries & senior officials present at the occasion included, Dr Ashok K Chitkara, Chancellor (CU), Dr Madhu Chitkara, Vice-Chancellor (CU), Ms Mia Yen, Canada's Consul General in Chandigarh; Mr Kumar Anil, IAS, DC-Patiala; Ms Nazuk Kumar, SDM (Central) Chandigarh Administration; International Delegates; and Senior Government Officials from UT & Punjab.
Dr Niyati Chitkara is the most scrupulous leader as it is under her tutelage that every day thousands of minds are inspired and educated. Thus it is in the honour of this distinction that she was bestowed with the title 'Principal Par Excellence' by leading International Institute of Hotel Management (IIHM) and .
Supporting her empowered leadership, one of the milestones achieved by her school was getting acknowledged by the Department of Education Chandigarh (U.T.) in association with PGIMER, Chandigarh and Indian Council of Medical Research under the School Health Accreditation Project (SHAP). After the rigorous assessment of 460 government and private schools by the team of assessors, Chitkara International School was found to be in the category of 'Platinum'(platinum being highest).
Dr Chitkara's steadfast approach towards the progress of her school and her consistent efforts to provide the best education and learning opportunities to the 21st-century learner caught her certificate of appreciation conferred by the prestigious and leading organisation 'Education Today'. The award was to highlight the top 50 effective principals of the year 2019 for their exemplary contribution in the field of education. Dr Niyati Chitkara was also one of the esteemed panelists who movingly spoke on the topic of 'Online Schooling or Online Learning' organised by Education Today magazine and published by Education News Network.
Calling attention to the major tectonic shift underwent by the education sector, amid COVID19, The Indian Express interviewed honourable Dr Niyati Chitkara to know about the solutions adopted by her to help tide over the challenge of pandemic. Voicing her opinion on the same, she asserted multi-model learning and hybrid teaching are the new face of education.
Besides this, the prestigious Mother Teresa Foundation Award was also conferred on Dr Chitkara for her selfless & outstanding contributions in Education and Social Welfare & Humanity in the times of COVID-19. She was chosen as one of the 'Top 40 Young Leaders in the field of Education' and further honoured with Business World Education '40 under 40' 2020 award. The award was bestowed in recognition of her unique ideas and expeditious implementation of those ideas for better and beneficial results.
Dr Chitkara, an eloquent speaker, touched upon certain areas that need quick addressing. In the shadow of this, an enlightening talk on "Parenting as an Art" was held, which discussed the colossal importance of parenting for the harmonious growth of a child with an eminent jurist, Ramesh Chandra Lahoti, Former Chief Justice of India. She also hosted a session on "Learner's Perspective- a narrative from an Artist Extraordinaire", discussing the insightful bits instrumental in expanding the capabilities of prospective teachers and in-service teachers with celebrated actor Mr Boman Irani. Besides this, Dr Chitkara opined her profound thoughts on the extant state of affairs and role of novel educational environment in the teaching-learning processes in the highly prestigious Elets talk. Showcasing her remarkable speaking skills & innovative ideas, she also addressed the audience of FICCI- FRAMES-LEAPS, a largest online summit on education and skilling in Media & Entertainment sectors held in 2020.
ASMA (Adoption of Social media in Academia), the leading global community of Academia organised a very interesting Panel Discussion on "NEP: Implementation and Future Challenges" during the ASMA School Leadership Conclave with an exciting theme of "How Technology and Innovation Are Transforming India's School Education" wherein Dr Niyati Chitkara addressed nationwide School Leaders. Besides this, to deliberate on the Changes & Impact and Implementation of NEP 2020 in School Education, Dr Chitkara also actively became a part of another Webinar organised by ASSOCHAM on "Decoding of National Education Policy 2020- Changes and Impact in School Education".
Touching on "International Competitiveness, Global Curriculum Standards, Education as an Industry and Investments, and Ease of Doing Business", Dr Niyati Chitkara addressed nationwide School Leaders as an Eminent Speaker, in "Global Education & Skill Virtual Conclave' organised by the Government of Telangana in association with APAC News Network.
Apart from this, Dr Chitkara also shared her valuable thoughts on "How Technology and Innovation Are Transforming India's School Education" organised by ASMA (Adoption of Social media in Academia) during the ASMA School Leadership Conclave. Besides this, Education World and Edu Start in association with Zamit organised a visionary talk on "Education Implementation – Progressive Punjab" wherein Dr Niyati Chitkara poured in her valuable thoughts on "Evolving The Perfect Blended Learning Model".
To give students of grade 9-12 some highly helpful tips & strategies for Exam preparation, Chitkara International School in collaboration with Mindler organised an engaging webinar wherein Dr Chitkara steered the session in association with Mr Prikshit Dhanda, India's leading life coach; Director & Chief Career Coach, Mindler. Dr Niyati Chitkara also appeared as the eminent Guest Speaker at the informative session named 'Creating a Thinking Classroom (K-12)', organised by TCS iON Direct Channel.
Under the astute tutelage of Dr Niyati Chitkara, Chitkara International School's longstanding commitment towards making a positive difference in the lives of its students has certainly been the driving force behind its groundbreaking mechanisms and highly distinct curriculum. Through its reversed yet remarkable "PhD to Playway" learning model, the school has not only carved a niche for itself as a quality educational institution, but has also ensured the success of its students at the school level and beyond that. In light of the same, the school's unstinted efforts towards the cause of student development have been well-acknowledged and appreciated by the supremely renowned educational website – Education World, as the organisation has published a well-expressed article on the school's "Reverse Gamut of Education" on its website.
Dr. Niyati Chitkara joined the distinguished "School Leaders Roundtable" to present her well-thought-out solutions for ensuring uninterrupted progress of K-12 Education Fraternity amidst COVID-19. An initiative of ScooNews Magazine, the School Leaders Roundtable witnessed the esteemed presence of some of the nation's eminent educational leaders, including Dr. Chitkara, teaming up to deliberate over the ways to elevate the present-day scenario of the educational setup. Also, being the percipient educator, Dr Chitkara shared her thoughts on the topic "Significance of Emerging Technologies in School Education" in the SchoolTech Innovation Conclave organised by APAC News Network.
Owing to Dr. Chitkra's commitment towards school education, the Panchkula campus of Chitkara International School became the proud recipient of the prestigious "Certificate of Recognition" bestowed upon it at the 19th World Education Summit by Elets Technomedia Pvt. Ltd. for its exemplary contribution to the education sector and functional innovation in pedagogical practices.
This indeed speaks volumes of her commitment and her passion towards school education and illustrates how by her judicious dispensation of knowledge, she has gained momentous success in all her endeavours.
Hereunder are a few of the links highlighting the achievements of Dr Niyati Chitkara.
Links