CHITKARA INTERNATIONAL SCHOOL OUTSHINES WITH 100% RESULT IN CBSE CLASS 12 BOARD EXAMS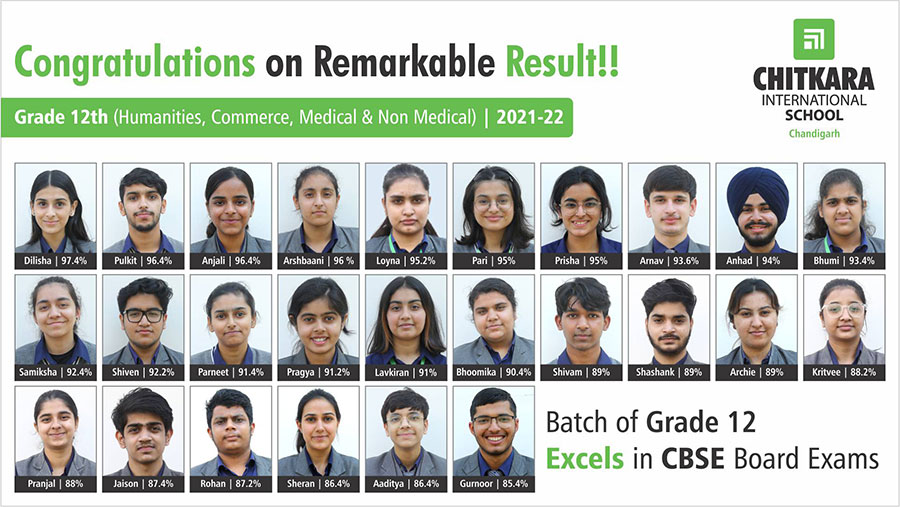 The students of Class 12th of Chitkara International School have displayed an incredible execution of diligence and scholarly energy with 100% result in the CBSE Board Exams, 2022.
Acing the charts with 97.4%, the eloquent State Level Fencer and MUNer, Dilisha Kaur from Humanities secured the first position followed by the remarkable Head Girl and winner of the Diamond Challenge, Anjali Navraj, the multitalented State Level Cricketer, Food Enthusiast and Singer Arshbaani Kaur Wazir bagging the second and third positions with 96.4% and 96% respectively. In Commerce, meticulous Shutterbug Anhad Bir Singh stood first with 94% followed by the artist Bhumi Garg with 93.4% and assiduous MUNer, Parneet Kaur Aujla with 91.4%. While in Medical, the charts were topped by the conscientious and bibliophile Shashank Shukla with 89% followed by the dynamic State Level Fencer, Dancer and MUNer, Kritvee Sharma with 88.2%, and the gifted Dancer, Pranjal Chauhan with 88%. Lastly, in Non-Medical, the adroit National Level Footballer, Pulkit Pannu attained 96.4% securing the first position followed by the MUNer and Orator, Shiven Sharma and the extraordinary Singer, Rohan Lakhanpal who scored 92.2% and 87.2% respectively. Moreover, seizing more than 85%, 28 Chitkarians, made the school immensely proud.
Articulating her gratification on the momentous occasion, the revering Dr Niyati Chitkara, Director, Chitkara International School, Chandigarh stated, "The school pays its most sincere appreciation to all the parents for their supreme support and commends all the stakeholders for this astounding accomplishment. The stupendous result of Grade 12 has yet again proved that nothing can ever subdue hard work and endurance. The Chitkara Family stands exceedingly proud and elated to have a team of such awe-inspiring educators and pupils. Moreover, the school would like to extend its unstinting gratitude and compliments to all the students of the nation, for they have displayed worthy determination and conscientiousness, and are thereby declared successful in their attempt to perform prodigiously well in class 12 Board Results."