Chitkara International School logs 100% success in CBSE Class XII Board Results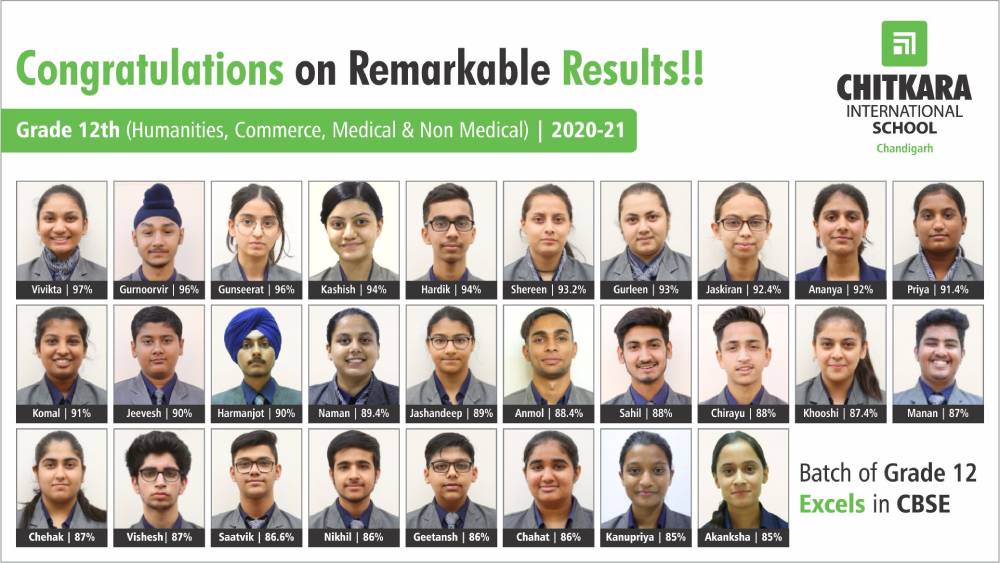 Chandigarh: Waves of joy have ensued from the declaration of CBSE Class 12 results at ChitkaraInternational School (CIS), as the students of the school have registered a 100% pass percentage in Class 12 CBSE Board Results.
Out of the 84 students of the school that had undergone the evaluation process for CBSE Class 12 results, 13 students have scored more than 90% marks (out of which 3 students scored above 95%) while 19 students scored 80% and above. Acing the charts with 97%, Vivikta Sinhafrom Grade 12 Humanities secured the first position followed by Gunseerat Kaur 96 % and Kashish Rana 94 % respectively. In Grade 12 Commerce, Gurleen Kaur stood first with 93% followed by Komal 91 % and HarmanjotSingh 90%, while in Grade 12 Non-Medical and Medical, the charts were topped by Gurnoorvir Singh 96 %, HardikSethi 94%, and Jeevesh Attri 90 % in Non-Medical and Jashandeep Kaur 89%, Chahat Chaudhary 86% and Ishmeet Kaur Randhawa 76% in Medical respectively.
All the Chitkarians are exceptionally talented in their own way. To list a few, Vivikta Sinha is an excellent debater, member of Global Health Brigade Team, Joint Secretary of School Cabinet, CEO of Copper Stoppers (School House) and Female student representative of Child-Friendly School Committee under Chandigarh Commission for Protection of Child Rights (CCPCR). Jeevesh, the other bright pupil of CIS has published a Patent application in Journal Indian Patent Office and has to his merit a Scholarship from Drexel. Other gems of the school, Anmol Singh (Member of School Caninet) & Sahil, are National Footballers and have also bagged Gold Medals at the National level.
Expressing her cheer on the special occasion, Dr NiyatiChitkara, Director, Chitkara International School, Chandigarh said, "The school pays its most sincere gratitude to all the parents for their unparalleled support and congratulates all the stakeholders for achieving yet another milestone. The outstanding result of Grade 12 has again proved that nothing can ever subdue hard work and endurance. Everyone at Chitkara stands absolutely proud of the students as well as the teachers. The school further extends its wholehearted appreciation and congratulations to all the students of the country, for they have exhibited admirable tenacity amid the pandemic, and deserve every bit of the appreciation and success."