Chitkara International School brims with pride as it announces 100% result of 12th class Board Examinations (2019-2020)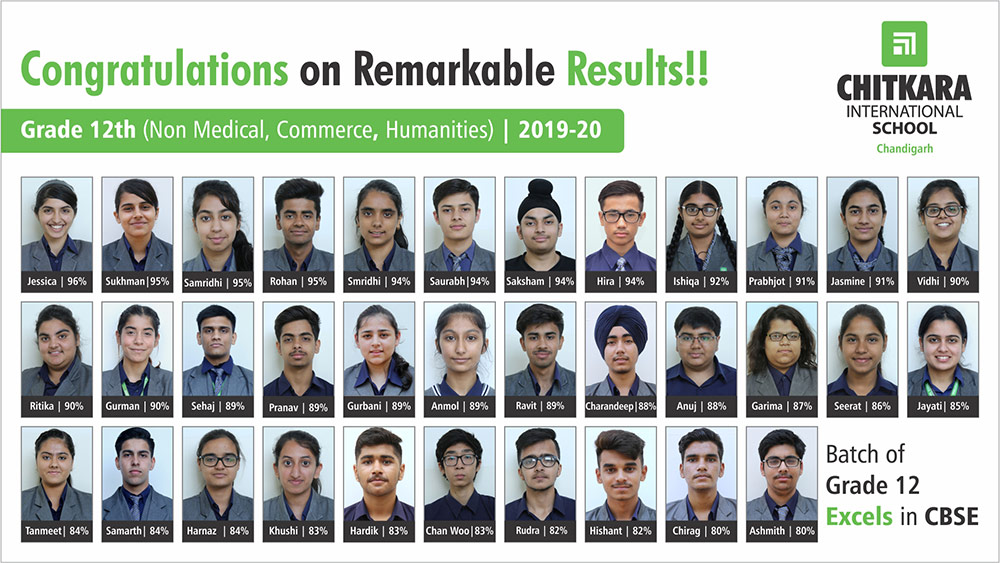 With 100% result in the CBSE Grade 12 Board Examination, the unabated efforts of the students and teachers of Chitkara International School have finally borne sweet fruits of success. The results that were declared by the Board on Monday were welcomed with much content and delight by not only the students but also the hardworking teachers who have worked constantly for the success of their students. A total number of 77 students appeared for the examinations set by the CBSE Board – with all-rounder students, Jessica Saini (Topper with 96 %), Jasmine, Rohan, Saksham, Saurabh, Sukhman, Prabhjot, Ishiqa, Smridhi and Hira Bahadur attaining more than 90 % marks.
Jessica Saini, a bright student of Humanities, an avid basketball player & who possesses immense talent in the field of dance topped the examinations from school by securing impressive 96% marks with 98 marks in Political Science followed by another gem of Humanities batch i.e. Sukhman, a fervent sportsperson at amazing 95% marks. Further, adorning the league of 95% marks, are the students Samridhi, who is an eloquent speaker, and Rohan Sagar, who has high acumen & sporting skills, from the stream Non-medical and Commerce respectively. Hira Bahadur, a national level soccer player broke all the stereotypes by flawlessly balancing the academics and sports and attaining an impressive score of 94%.
Teachers expressed their happiness and congratulated all the students on their remarkable success. One of the teachers asserted, "It's a moment of pride for us and this satisfying result is the product of unflagging efforts, hard work and dedication of our industrious students. I wish all future doctors, engineers, teachers, professors to do well in future as they are about to play a pivotal role in society."
Expressing contentment, Dr. Niyati Chitkara, Principal, Chitkara International School commented, "As the young Chitkarians stand proudly today at the successful conclusion of yet another productive year, I would like to extend my hearty congratulations to the students of Grade 12. The result has truly been a matter of absolute gratification for the school and we particularly take pride in the kind of personal, emotional and academic growth exhibited by the confident, assured and hopeful scholars of Grade 12 who were not only at the centre of an unprecedented educational situation but who also remained admirably undeterred and completely optimistic through it all".