CCPCR awarded Chitkara International School "Mass Outreach Programme" for its Virtual Annual Function – "Mosaic Being Arty"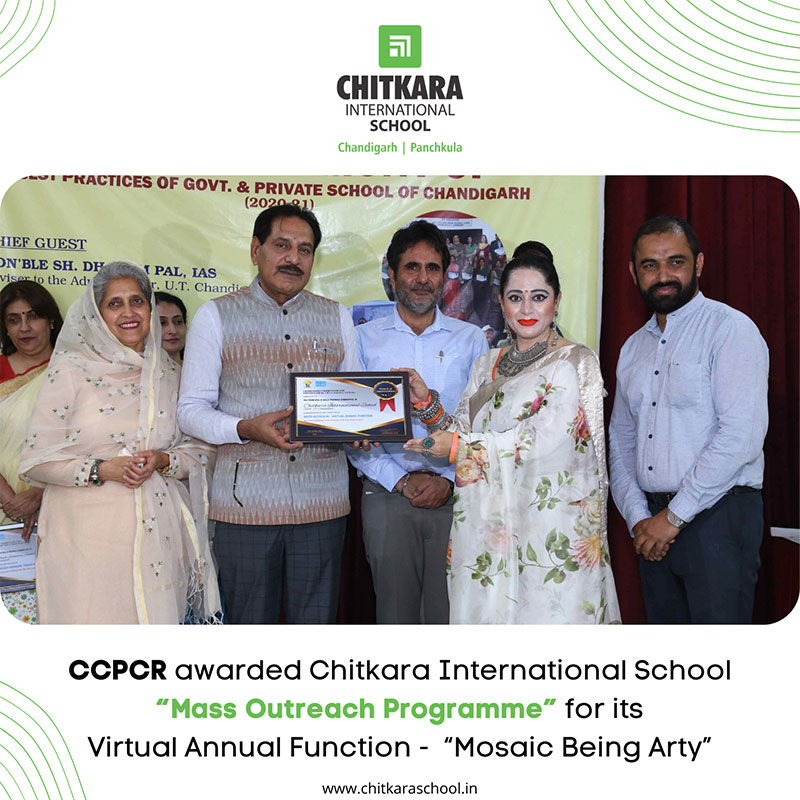 Education connects you with stories, theories and accomplishments of faraway cultures and generations. Moreover, it offers you a body of knowledge greater than you can ever gain on your own in one lifetime. In line with the aforementioned vision, Chitkara International School takes immense pleasure in sharing with its stakeholders that the school's persistent efforts towards the edification of the society, has been once again acknowledged by the Chandigarh Commission for Protection of Child Rights(CCPCR) for the school has been conferred upon with the prestigious "Mass Outreach Programme" Award for its 10th virtual annual event titled "Mosaic Being Arty" which exhibited the significance of various art forms during Renaissance, Neoclassicism, Cubism, Impressionism and the Contemporary period through comical acts, dance performances and singing shows.
The school's event was further recognised for culminating the presentations with beauteous artwork and picturesque mosaic. The prominent award was bestowed on the school by the UT Advisor, IAS Dharam Pal and Education Secretary, IAS Sarpreet SinghGill & Chairperson- CCPCR, Ms.Harjinder Kaur.The entire Chitkara fraternity feels extremely gladdened and contented with the memorable accomplishment and congratulates each of its stakeholders for the milestone achieved.