Chitkara International School reverberates excellence by showcasing 100% pass percentage in CBSE 10th Board Examinations with 95% being the highest percentage scored followed by 13 students bagging more than 90 % marks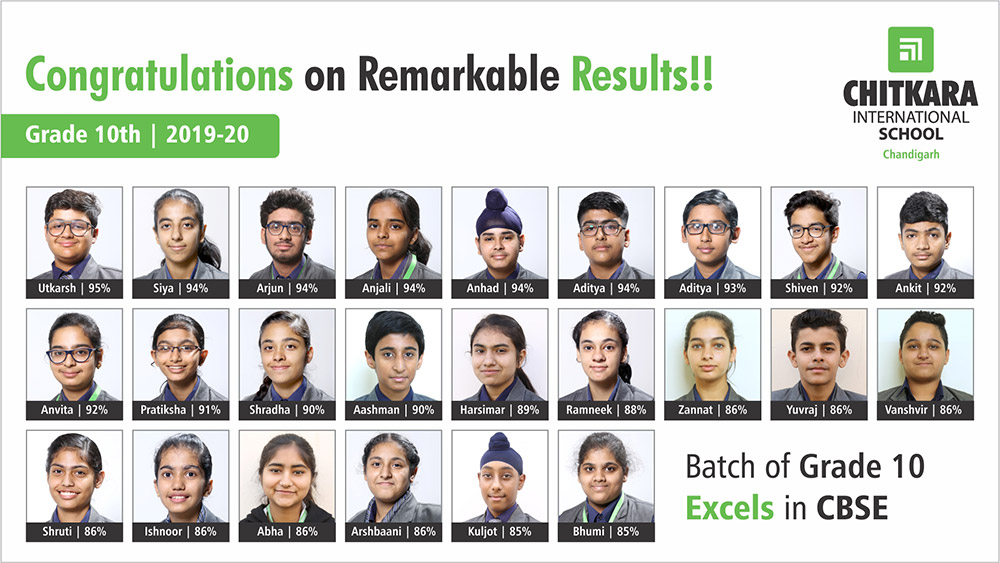 The students of Class 10th of Chitkara International School have showcased a noteworthy execution of hard work by registering meritorious 100% result in the CBSE Board Examinations 2020. A total number of 107 students appeared for the examinations set by the CBSE Board with all-rounder students Utkarsh Sharma (Topper with 95%), followed by 13 students attaining more than 90 % marks. This tremendous triumph of the school evidently voices the fact that the school has left no stone unturned to provide students an open & developing ecosystem combined with the assiduous push by the teachers in the right direction both in academic and in non-academic branches.
Utkarsh Sharma, the confident, cheerful, and technical powerhouse of ideas who has participated and won laurels in the field of many scientific competitions topped the school by scoring 95% marks. The second position holders & 94% achievers group of the school has multi-talented students like Siya Monga, the National level fencer player and fine arts enthusiast, followed by Anjali Navraj, who posseses deep analytical skills and has an impressive hold on the oratory skills, Aditya Deshwal the maths & Olympiad genius and Arjun Bhaskar who possesses a scientific bent of mind. Following the league is Aditya Dandriyal triumphing 93%, Anvita Rother Pal, Shiven Sharma & Ankit Mandal scoring 92%.
Expressing happiness, the teachers conveyed their kind wishes to the students. They were contented with the unfeigned efforts of students and were hopeful that Chitkarians will keep shining in the future as well.
"It is a moment of pride for us, as the academic year 2019 culminated with marvellous results. With the unparalleled teamwork of diligent students and erudite faculty, the hard work put in by both has paid off. Especially, in these unprecedented times when uncertainty caused by Covid-19 was looming large, the patience shown by these young children was exemplary. ", says Dr. Niyati Chitkara, Principal, Chitkara International School who is jubilant to see the results and appreciates each and everyone behind the same.