Journaling Promise of Growth…
The rewarding Faculty Development Program of Chitkara International School viz. "Nurturing Excellence in Education: Empowering Teachers through Continuous Professional Development" was organised in the month of June 2023 at CIS with the aim to provide enriching experiences to the diligent staff members, empowering them to successfully edify the learners of today's generation through groundbreaking pedagogical tools and techniques. In line with this, the programme featured a series of keynote speeches, interactive workshops, and panel discussions, covering a wide range of topics relevant to the current educational landscape. Importantly, entailing fun-filled activities like talent hunt and treasure hunts, the event served as a platform for the dynamic teachers to exchange ideas, discuss challenges, and explore innovative solutions, creating a supportive and dynamic education community.
Day 1 – The School Tour, Ice-Breaking Activity & a Riveting Session on Canva
The action-packed first day of "Nurturing Excellence in Education: Empowering Teachers through Continuous Professional Development" began with a tour of Chitkara International School, Panchkula, where staff members had the opportunity to explore the innovative learning spaces of Panchkula campus. Thereafter, a riveting icebreaking activity was followed by an amazing Workshop on Canva that delved into the realm of graphic design and visual content creation using the versatile platform, Canva. Indeed, the first day of the event set the tone for an experience filled with inspiration, collaboration, and professional growth.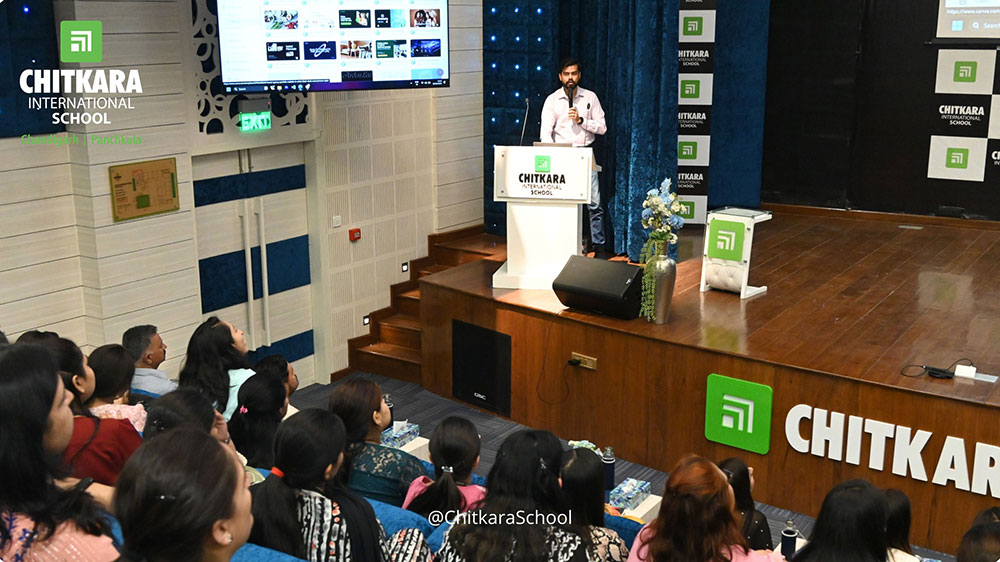 Day 2 – Exploring Climate Reality & Tools of Learning Excellence
On Day 2, a rewarding session on "Beating Plastic Pollution" by Ms Rekha Lalla (Head of Green Campus at Climate Reality Project, India and South Africa) was conducted for the diligent staff members, which outlined the most effective ways of curbing the menace of plastic pollution. Furthermore, another session on "Concept Formation Tool" was helmed by esteemed educators, Ms Aarzoo Lamba (Asst. Activity Coordinator-Jr. Wing), Ms Yogita Rai (Art and Craft Instructor) and Ms Suruchi Nanda (Mathematics Instructor), who together elucidated the tool of Concept Formation for fostering conceptual understanding among students. The discussion entailed effective approaches and techniques for helping students grasp abstract concepts and develop a deeper understanding of academic subjects. Indeed, the sessions proved to be immensely beneficial for the diligent educators.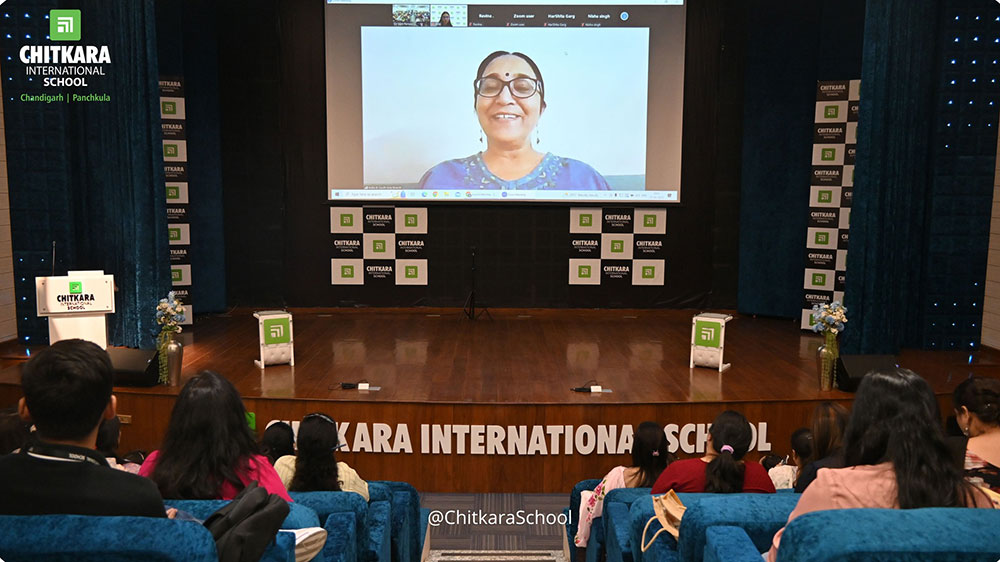 Day 3 – Marching towards Competency Based Education & Thinking Classrooms (Flipped Learning and TEAL)
The third day of the event, "Nurturing Excellence in Education: Empowering Teachers through Continuous Professional Development," at Chitkara International School witnessed an enlightening session by Ms Piyusha Sharma (Assistant English Language Coordinator) on "Development of Competency-based Items", which elucidated the varied terms associated with the technical process of creating items, and the importance of taking a competency-centred approach in the creation of questions. Furthermore, another rewarding session viz. Flipped Learning was helmed by Mr Anmol Verma (Head of Online Support Services, Digital Outreach & Student Affairs), which provided educators with valuable insights and practical strategies to implement this innovative teaching approach in their classrooms. The session also outlined the significance of leveraging technology to support Flipped Learning, as it allows teachers to create a dynamic and interactive learning environment. Not to mention, a yet another enlightening session on TEAL (Technology-Enabled Active Learning) – EDUREFORM Tool was organised by the esteemed educators Ms Aarzoo Lamba (Asst. Activity Coordinator Jr. Wing), Ms Suruchi Nanda (Mathematics Instructor), and Ms Yogita Rai (Art & Craft Instructor) who collectively rendered thought-provoking insights and practical strategies for integrating technology into active learning processes within the classroom. Accordingly, the session helped teachers learn about various technology tools and platforms that can be used to facilitate TEAL, such as interactive presentations, virtual simulations, collaborative online platforms, and formative assessment tools. Indubitably, the sessions proved to be a fruitful experience for everyone in attendance.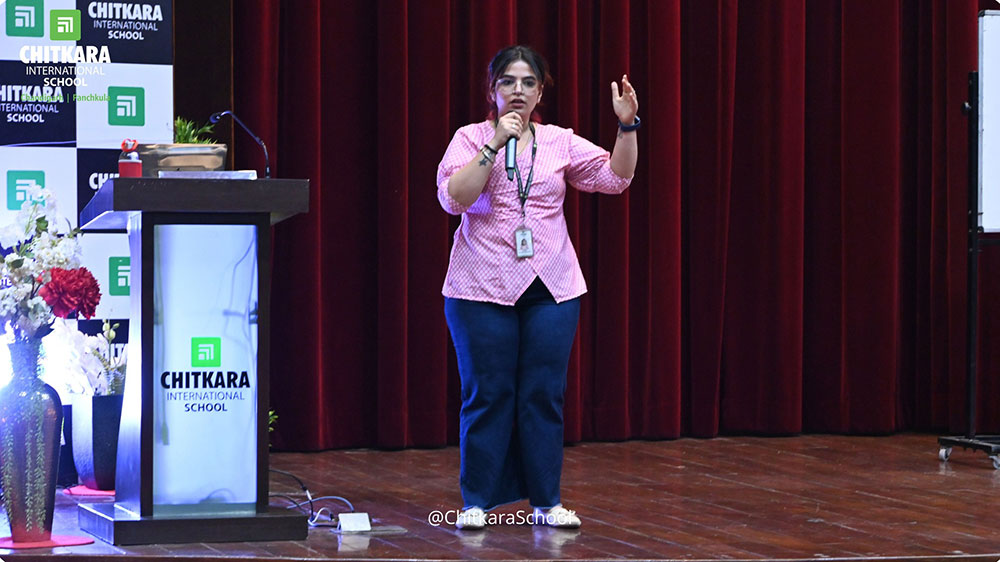 Day 4 – The Exhilarating Talent Hunt (The Faculty Panache)
Rendering a much-needed break from academics and offering teachers and staff members a chance to refresh and revitalise themselves, "The Faculty Panache: Exhibit your flair in the ultimate talent hunt@CIS!" was conducted for the diligent staff wherein the participants confidently showcased their respective talents through captivating performances. From singing and dancing to comedy acts and poetry recitations, the stage indeed came alive with a vibrant display of talents. The hunt not only provided an opportunity for teachers to connect with their colleagues but also to appreciate each other's talents, and strengthen their bond within the school community.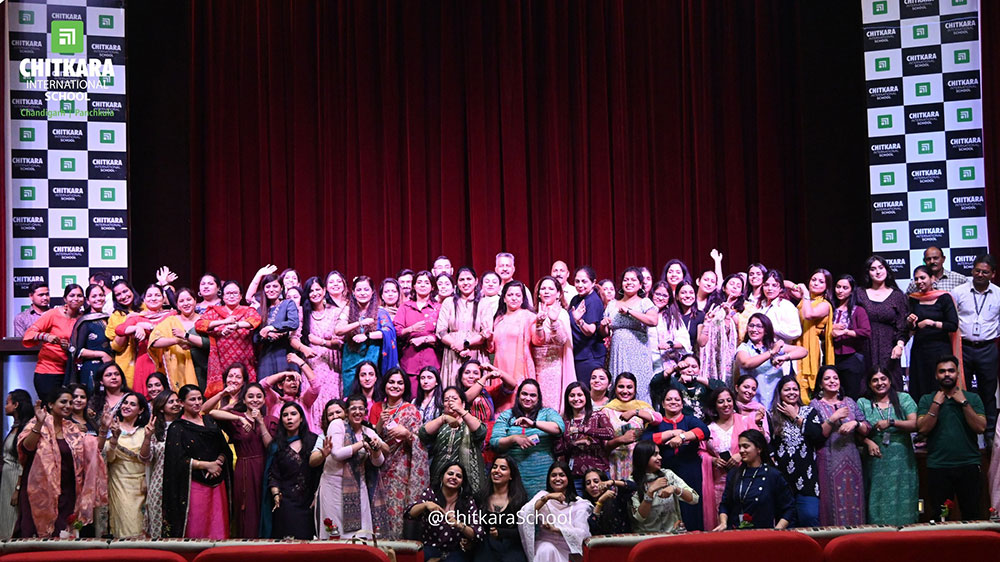 Day 5 – Mastering the Art of Framing Question Papers and EDUREFORM Tool (Debate) & Unleashing Teamwork and Fun with Treasure Hunt
The dynamic Dr Parul Sood, Assistant Dean of College of Education, Chitkara University conducted an enlightening workshop on the art of framing question papers. Highlighting the different kinds of questions as per Bloom's Taxonomy, Dr Parul excellently shed light on the varied cognitive levels and learning objectives. Importantly, matters like Lower Order Thinking Skills and Higher Order Thinking Skills were discussed in detail. Along with that, the day also witnessed in-depth exploration of the promising EDUREFORM Tool viz. Debate. For the same, Ms. Padmakala Siva, the Assistant Professor at Chitkara University, Rajpura, conducted an engaging and highly insightful workshop on the said tool to equip diligent teachers with the essential skills and knowledge for effective debates, fostering critical thinking and persuasive communication. Incorporating two engaging games, Tug of War and Musical Chairs, Ms Siva, in her session helped participants understand the nuances of constructing logical arguments, refining their research abilities, and delivering powerful speeches. Undoubtedly, the resource persons' dedication to empowering educators through innovative educational approaches made a profound impact on them. Last but not the least, augmenting teamwork and rendering a fun break to teachers, an exciting talent hunt was further held for the teachers, wherein the school's Activity Team carefully crafted a series of QR-based clues and riddles, leading the participants on a captivating adventure throughout the campus. The staff eagerly formed teams, and their competitive spirits ignited. Indeed, the treasure hunt not only became a memorable event but also symbolised the immeasurable value of teamwork and quick thinking.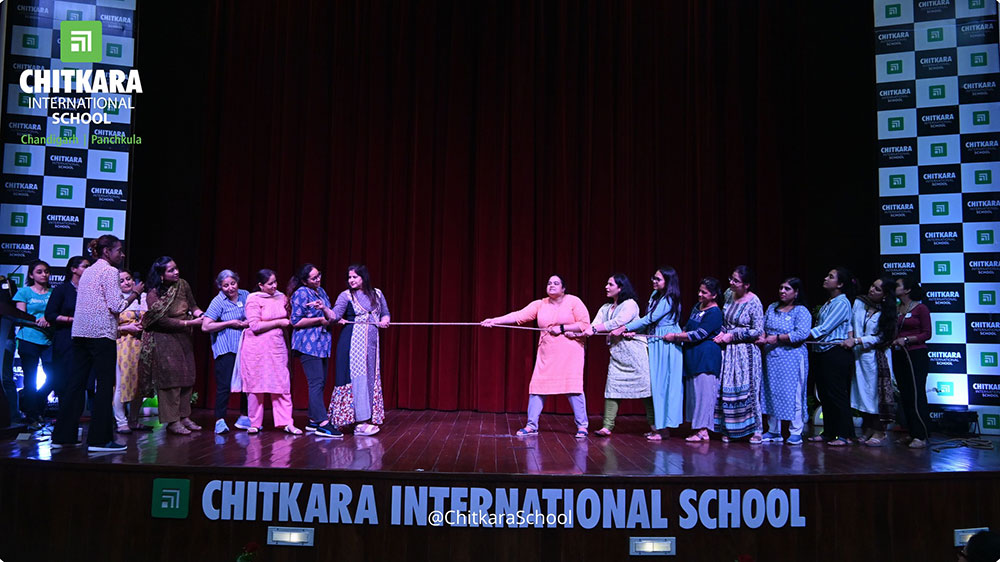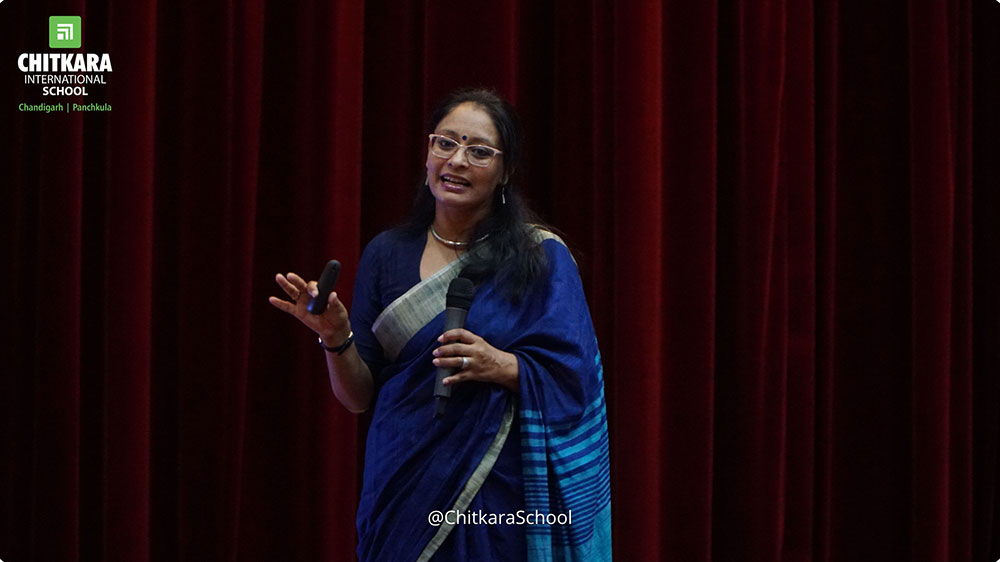 Day 6 – Sessions on The Power of Positive Affirmations and Building Digital Readiness with AI with a Captivating Symphony of Pedagogical Insights by Dr Niyati Chitkara
The enterprising Dr. Meenu Sharma conducted an enlightening session on the Use of Positive Affirmations in Classroom, with the focus on transforming negative thoughts into empowering statements and rewiring students' brains with positivity. Under the said session, Dr. Sharma shared valuable techniques to bring about effective positive affirmations by avoiding problem words and infusing students with powerful positive emotions. Dr Sharma further shared practical strategies for implementation, including teachers serving as role models, distributing affirmation cards for reflection, and encouraging students to create their own positive affirmations. Along with the thought-provoking session, the fifth day of the Capacity Building Programme at Chitkara International School also featured an interactive session on Building Digital Readiness using AI for teachers. Therein, the esteemed educators Dr. Lipika Gupta, Dr. Isha Gupta, and Dr. Amit Kumar emphasised on the implementation of AI tools in the existing teaching curriculum across all subjects with the aim of transforming lectures into interesting, engaging, and interactive experiences for students. Indeed, the sessions proved to be an illuminating, and engrossing experience for all participants. Importantly, the promising Day 6 witnessed a captivating session by the honourable Director-Schools, Dr Niyati Chitkara, wherein Dr. Chitkara fervently delved into the delicate intricacies of fostering an environment conducive to superlative learning for children and optimal growth for all stakeholders. A beacon of inspiration, Dr Chitkara also elucidated the essence of nurturing delicate bonds between teachers and students which are tenderly woven. Indeed, Dr. Niyati Chitkara's session was highly enriching for the educators who were filled with enthusiasm and dedication for the noble cause of teaching.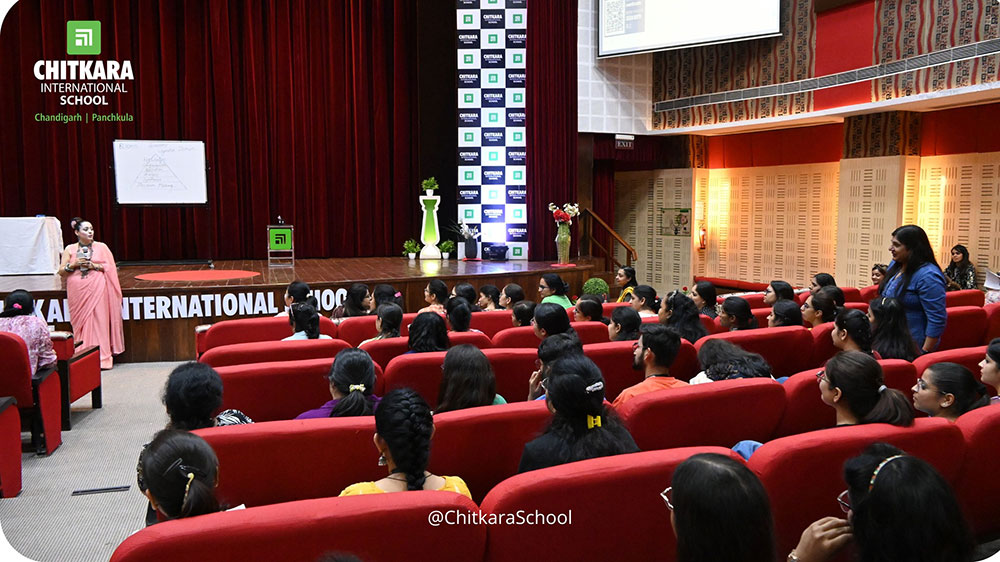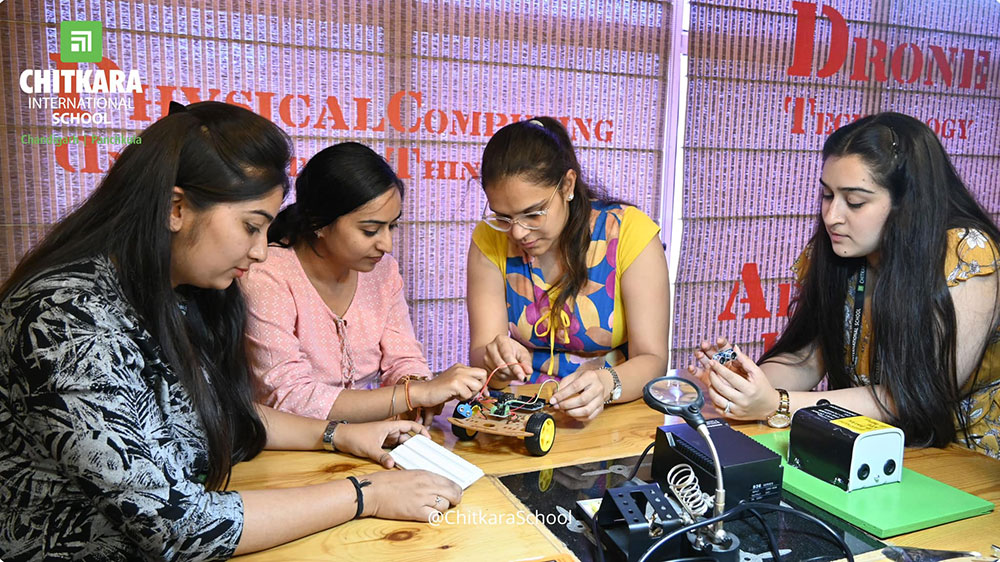 Day 7 – Uncovering the Significance of Anecdotal Records and Maximising Multi-ability Classrooms
The last day of the forward-looking programme, "Nurturing Excellence in Education: Empowering Teachers through Continuous Professional Development" witnessed a significant and highly relevant session on "Maintenance of Anecdotal Registers" which was conducted by the esteemed educationists, Dr Honey Chitkara, Associate Director, Chitkara International School, Chandigarh & Panchkula and Principal, Chitkara International School, Chandigarh, Ms Shalini Somra, Vice Principal, Chitkara International School, Chandigarh and Ms Kanchan Gupta, Vice Principal, Chitkara International School, Panchkula. Outlining the importance of said records in tracking students' progress, Dr Chitkara emphasised on the need of ensuring accuracy and comprehensiveness of such data for reliable student assessment and teacher feedback. Also, Ms Shalini and Ms Kanchan shared their practical experiences and insights on effectively documenting student behaviours, achievements, and areas for improvement. After the enlightening session, another riveting training viz. Maximising Multi-ability Classrooms: Creating Effective Platforms of Learning for Students with Multiple Intelligences was helmed by the wonderful Dr Sovia Rj Singh, wherein Dr Singh talked at length about the effective strategies to cater to the learning needs of students with different abilities. From the importance of active listening, the significance of interactive activities, and the utilisation of imagery to describe different skills to the significance of interpersonal skills in understanding the true meaning of intelligence, Dr Singh provided an in-depth explanation of the ways how students' needs may be addressed and further elucidated the different types of intelligence, including logical-mathematical, linguistic, scientific, and naturalistic.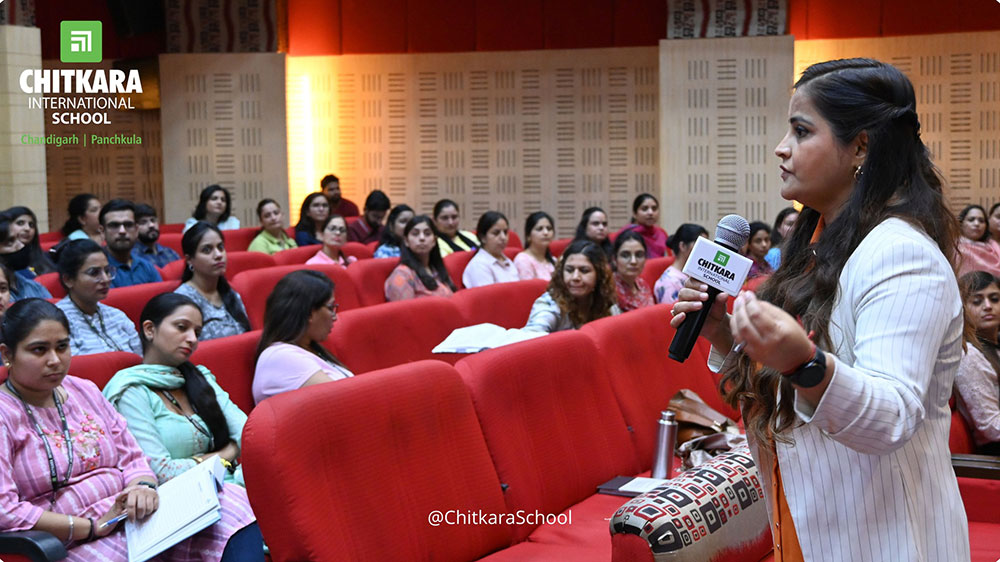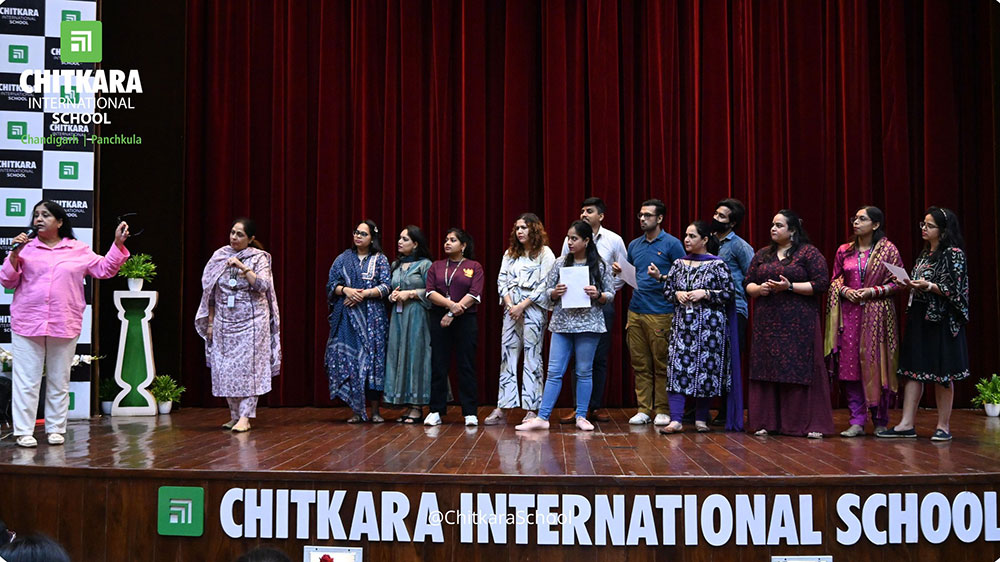 The Tailpiece
The event "Nurturing Excellence in Education: Empowering Teachers through Continuous Professional Development" indubitably provided a remarkable platform for educators to enhance their teaching practices and engage in professional growth. The sessions led by esteemed educators and experts offered valuable insights, practical strategies, and innovative approaches that can be implemented in the classrooms and for one's own personal development. From competency-based assessments to technology integration, participants gained a deeper understanding of various aspects of education and explored ways to create impactful learning experiences for their students. The event truly and emphatically fostered collaboration and camaraderie among educators, promoting the importance of continuous learning and professional development. With newfound knowledge and inspiration, the teachers, beyond the shadow of a doubt, finished the training fully equipped with skills to nurture excellence in education and empower their students to thrive.