Arryan Madhu Chitkara, a remarkable student from Chitkara International School, is a prodigious individual whose exceptional innovation, "The Communicator Mask," has garnered widespread recognition and acclaim. Arryan's creation addresses the communication barriers posed by traditional face masks and utilises advanced technology to enhance voice clarity without compromising safety and protection. From his remarkable showcase at National Technology Week 2023 to his inspiring session at Chitkara International School, Arryan's achievements have set the stage for a transformative journey of excellence and serve as an inspiration to aspiring young minds. His success is a testament to the power of nurturing young talent and inspiring them to fearlessly pursue their passions.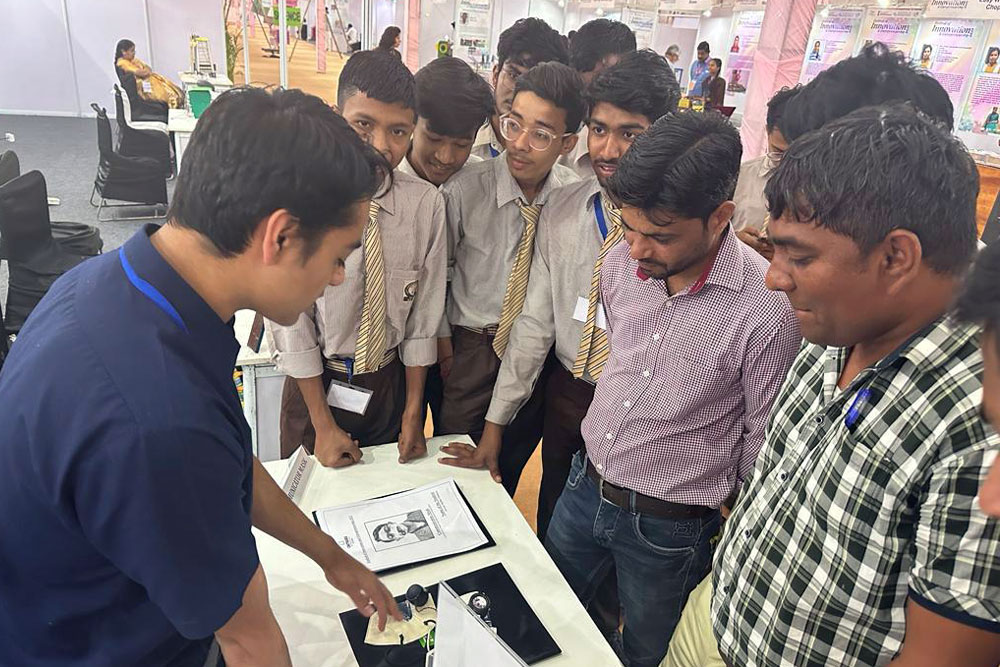 Igniting Young Minds: Arryan's Exemplary Showcase at National Technology Week 2023
Arryan Madhu Chitkara exhibited his incredible innovation, "The Communicator Mask," at the National Technology Week 2023, held under the theme "School to Startup – igniting young minds to innovate" from May 11 to 14 at Pragati Maidan, New Delhi. Highlighting the importance of honing the talent of budding scientists, Honourable Prime Minister Narendra Modi, inaugurated the event and unveiled multiple scientific projects valued at over Rs 5800 crore. At the said event, Arryan exhibited his brainchild "The Communicator Mask", which is an innovative solution developed to address the communication barriers posed by traditional face masks. The invention leverages advanced technology to enhance voice clarity while ensuring safety and protection. Besides this, the young Tinker-preneur also got an opportunity to present his innovation to Dr Jitendra Singh, Minister of State for Science and Technology and Earth Sciences. This ingenious creation has garnered widespread appreciation from both viewers and industry peers, solidifying Arryan's reputation as a promising young talent in the field of technology.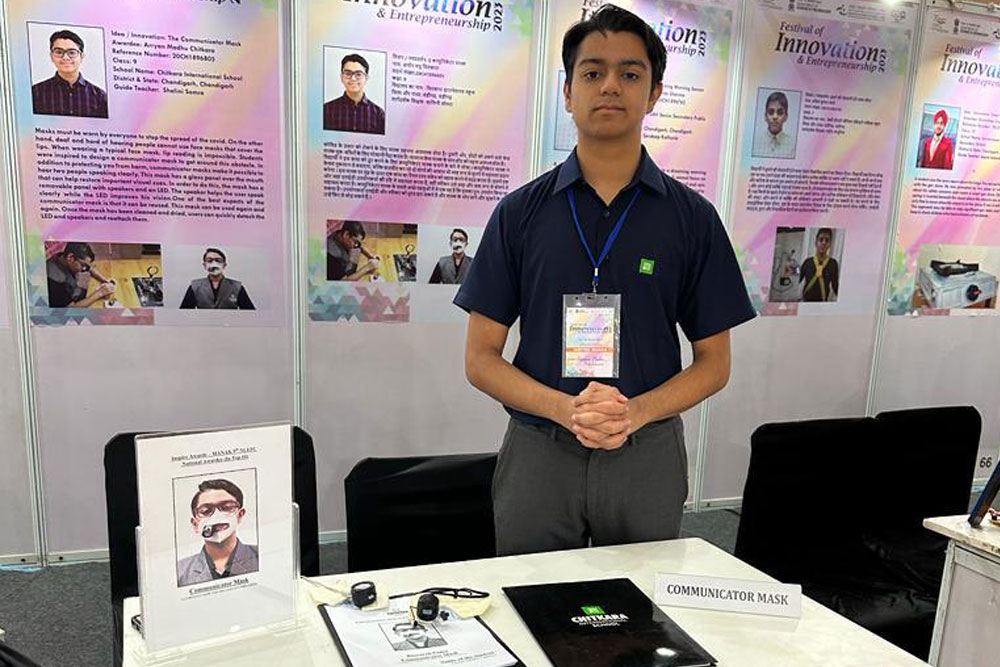 From Dreamer to Achiever: Unveiling Arryan Madhu Chitkara's Journey to Success
Arryan Madhu Chitkara successfully conducted an inspiring session titled "From Dreamer to Achiever: Unveiling the Journey to Success" at Chitkara International School, Panchkula. During the session, Arryan shared his remarkable journey, aiming to inspire his peers to pursue their passions fearlessly and with conviction. Arryan's session beautifully depicted his transformation from being reserved to becoming a global traveller who expresses thought-provoking ideas and promotes his patented innovations. His success story is truly impressive, as he found inspiration in simple aspects of life, such as Summer Holiday Learning projects, and transformed them into opportunities to become an exemplary innovator and ambassador of excellence. Arryan's deep interest in science and technology was evident throughout the seminar as he shared his journey of discovering his innate talent for innovation and leadership. He navigated through various exhibitions and competitions, winning accolades along the way. Indeed, Arryan's inventive contributions are noteworthy. From creating the Communicator Mask and exhibiting it at the esteemed Festival of Innovations and Entrepreneurship [FINE] held at Rashtrapati Bhavan to developing innovative products such as Agronic Culture (Healthy Bin Farming), Double Plumbing (water conservation), Bioplastic (a plant-based plastic), SpeaPo (An Integrated Pole for Farmers), and Communicator Mask (An Intelligent Mask for Covid-19), Arryan's journey of excellence is just beginning and is expected to continue to flourish with his continued dedication and efforts.
A Conversation with the Visionary: Exploring the Significance of the Communicator Mask
In an inspiring conversation with the diligent team of Zee Punjab Haryana Himachal channel, the dynamic Chitkarian, Arryan Madhu Chitkara, elucidated the working of his patented creation "The Communicator Mask", highlighting the merits and significance of the innovation, particularly in light of the post pandemic era.
"The Communicator Mask" Earns Acclaim: Media Applauds Arryan's Innovative Solution at National Technology Week 2023
Arryan's exceptional achievement and the innovative prowess behind "The Communicator Mask" have not gone unnoticed by the media. Various newspapers have enthusiastically covered Arryan's success, highlighting the brilliance of his invention and its significance in the present context. The widespread coverage serves as a testament to the impact and relevance of Arryan's creation in addressing the communication challenges posed by traditional face masks in the post-pandemic era.
The Tailpiece
Arryan Madhu Chitkara's exceptional journey as a young innovator and inventor is a testament to the boundless possibilities that lie within the minds of the youth. With his groundbreaking creation, "The Communicator Mask," Arryan has not only addressed a pressing need in the post-pandemic world but has also emerged as a role model for aspiring young talents. His passion, dedication, and relentless pursuit of excellence have paved the way for a brighter future, where innovation and technology continue to shape everyone's life. In light of Arryan's achievements, let's remember that the potential for greatness lies within each and every one of us, waiting to be unleashed through creativity and perseverance.