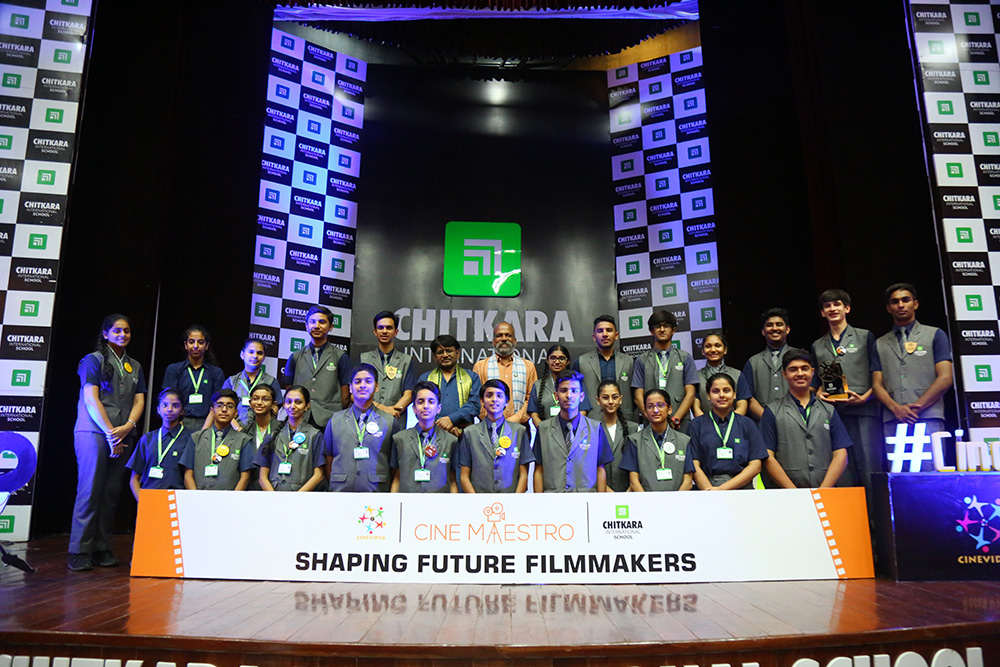 From time immemorial, the desire of powerful storytelling has triggered humans to seek questions to mull over. The widely acknowledged significance of storytelling was upheld by Chitkara International School (CIS) as it organised its annual mega film festival and award ceremony, celebrating the tenacity of Tricity's budding filmmakers. The school was abuzz with a great deal of excitement as the mega film festival called 'CineMaestro – shaping future filmmakers', held a screening of veritably impactful films that were conceived by participants. The mega film festival, ranging from the three-day workshop to the concluding award ceremony was conscientiously shaped by CIS in its rewarding collaboration with Cinevidya, Mumbai. Cinevidya, a futuristic project and a highly distinctive social enterprise is being helmed by Mr Amitabha Singh, a notable Indian cinematographer and film producer known for Chillar Party, Khosala ka Ghosala etc.
The students had a hands-on experience of making films and were edified on modules like Film Craft, Acting, Animation, Choreography and Advertisement. Cinevidya team lead by Mr Amitabha Singh along with other industry experts like Mr Anant Vidhaat Sharma, Ms Amritpal Kaur Barot, Mr Ambar Chakravarty, Ms Latha Bs. and Ms Nidhi Chauhan fervently apprised 300 students from 16 schools of Tricity with a fixed intent and purposeful aim of unleashing and subsequently strengthening the filmmaking skills of the children.
Raghubir Yadav, an Indian film, stage and television actor, music composer, singer and set designer, graced the event as the honourable chief guest. Mr. Yadav who has garnered two International Awards as Best Actor for Massey Sahib, FIPRESCI Critic's Award, Venice Film Festival, 1986 and the IFFI Best Actor Award (Male): Silver Peacock Award (only Indian actor to have received) at the 11th International Film Festival of India, judged the short films along with Mr Amitabha Singh. Every entry of CineMaestro Take 3 was incredible. Movie titled "Trophy", by Bhavan Vidyalaya Panchkula stood 1st.Saupin's School's (Chandigarh) movie named "Ab… Bas.." held position 2nd. The 3rd position was seized by Banyan Tree School for the movie "A middle school girl". The Gurukul Panchkula took the title "Best Actor" for the movie "Pehchaan". Amidst this, the title of "Best Story" was bestowed on Carmel Convent School for the movie "Destined". St. Kabir Public School seized the title, "Best Production" for the short film "Anukampa". Furthermore, Chitkara International School was applauded and conferred with the title "Emerging Film makers" for "The Mystery Room" and it captured "Special Mention" for "Time Follows".
"The industry advancement that has exponentially widened the possibilities of experimenting in the field of filmmaking, choreography, animation, advertisement, etc. poses as the testament of a promising future for the upcoming generation. And in the backdrop of the same, the know-how of filmmaking that is being imparted to the students by CineMaestro in cooperation with Cinevidya is undeniably laudable", said Mr. Yadav applauding the idea of the film festival.