School Leadership
Chitkara International School takes pride in its excellent team of educationists and has outstanding achievements in their chosen fields.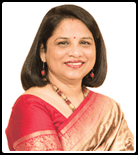 Dr Madhu Chitkara
Chairperson, Chitkara International School
Dr Madhu Chitkara is one of the co-founders of Chitkara Educational Trust, an organization of great repute & distinction. An eminent academician, an innovative entrepreneur, she has articulated, designed the road map for the Trust & has actively contributed to its tremendous growth and recognition in all these years and is spreading light of education in the life of tens of thousands of people.
With a passion for academics and great business acumen, she has had a diversified career & variegated experience in the field of education spanning 42 years. She is highly knowledgeable, focused, a strategic leader & has a passion for excellence.
She has adeptly managed numerous academic ventures and remains a true leader Who leads by example, is warm, sincere and always willing to walk the extra mile to deliver on promises. Her support to several humanitarian causes in association with many NGOs is indeed a tribute to her philanthropic nature, her zest for life and her desire to transform lives for better.
For her endeavors, Dr Madhu Chitkara has been felicitated with
State Award for Teachers in public recognition of valuable services to the community as a teacher of outstanding merit in 1987.
The Rashtra Nirman Ratna Award 2002 by Economic Growth Society of India, New Delhi.
Rashtriya Shiksha Ratan award 2003 by All India Business Development Association, New Delhi.
The Life Time Achievement Gold Medal Award 2004 by Global Society for Health & Educational Growth, New Delhi.
The International Gold Star Millennium Award and Rajiv Gandhi Shiromani award by Global Economic Council STATE AWARD FOR TEACHERS in public recognition of valuable services to the community as a teacher of outstanding merit.
International Achiever's Award 2009 for Women Entrepreneur for Recognizing outstanding achievement at 21st International Achievers Summit, Emerging India on 31st October 2009 at Bangkok (Thailand) by Indian Achievers Forum.
Honored on International Women's Day Celebrations on 8th March 2011 for incredible contributions in the field of education at Patiala.
Awarded as "NURTURER OF TALENT AWARD" during 2nd Asia's Best B-School Awards Function on 22nd July,2011 in Suntec Singapore.
Facilitated with "Nurture of Talent Award" during 19th Dewang Mehta B-School Awards held at The Taj, Lands End, Mumbai.
Conferred with Visionary Leaders Award & Inspirational Leaders Award by Bloomberg/UTV.
Felicitated with Innovation Leadership Award by DNA & stars of the Industry Group, Canada.
Honored With "State Award – Women Of The Year – 2012″, In Business & Profession Category By Dainik Bhaskar.
Bestowed with Certificate of Excellence for Outstanding Achievers Award- FICCI- FLO 2013-14 by FICCI Ladies Organisation, New Delhi.
Invited as an Eminent Speaker, at India's largest education brainstorm conference – Global Educators Fest 2017, Gurgaonand shared her valuable views through a Panel Discussion, on the topic " Higher Education Institutions incorporating skill development in their curriculum", moderated by Price water house Coopers (pwc).
Honored as one of "India's Most Inspiring Women Engineers & Scientists" on International Women's Day by Engineering Watch.
Invited to House of Lords with Anglia Ruskin University, London
Invited to EPFL, Lausanne, Switzerland
Invited to VC's Meet in IYF World Camp, South Korea
House of Lords with Anglia Ruskin University, London
In November 2008, she along with a few of her key team members visited various Top Universities of the US with the intention of bringing about a massive change in the way education is viewed in the Nation. She visited The Georgia Tech University, University of Massachusetts (UMass), Purdue University, Massachusetts and Institute of Technology (MIT), , University of Southern California and University of Washington. Dr Madhu Chitkara met and shared her knowledge with representatives from eminent Universities in US Like
(a) Lawrence Tech University
(b) Rowan University
(c) Laureate Education Inc
(d) Northern Illinois University
(e) University of Puerto Rico
(f) University of Hartford
(g) Saint Louis University
(h) University of North Carolina at Charlotte
(i) St Louis Community college
(j) Arizona State University
(k) Philadelphia University
(l) Northeastern University
(m) Clarkson University
(n) University of Central Florida
This prolific visit had a one point agenda to imbibe and assimilate the best available practices of the western education scenario and to initiate a more progressive educational environment. Soon after this visit she was invited to attend The Clinton Global Initiative in Hong Kong (Dec 2008) with an opportunity to interact with Asia's most influential leaders and to deal with the region's most pressing issues.
Despite achieving phenomenal success in the field of education she had a desire to do something for those who were not very privileged. Accordingly, she prevailed upon the heads of her institutions to adopt villages in the vicinity of their organizations. Villagers, mainly women were given training to pursue vocations that could provide livelihood to them. Care was taken to ensure that the products manufactured by them found use in educational institutions. The items produced by these cottage industry level enterprises were purchased by Chitkara people thus relieving the villagers of the burden of marketing their produce. The Trust under proficient chairmanship of Dr Madhu Chitkara has adopted nearby five villages through NSS, and provides free education to the children, and opportunities for self employment to adults. Women are involved in stitching and fabrication of uniforms which helps them become financially self sufficient. The Trust also provides health awareness programs in addition to extending health facilities to this village. A computer center has also been established in this village in order to create awareness amongst the residents about latest technology.
With new fields of knowledge emerging, Dr Madhu Chitkara aims to venture into the arena of patents. She has a strong preference for working towards creation of knowledge in specific areas. She is creating avenues to bridge the gap between the industry and academia by incorporating more application based courses wherein both the Universities can provide the companies with students who are ready to take on the responsibilities endowed upon them. Chitkara's Education provides the foundation and specialized knowledge necessary to analyze, design and evaluate systems that are useful to society.
Dr Madhu Chitkara continues to be an inspiration around the world and her acumen will keep her at the pinnacle of success. Despite being a woman she has shown great determination and motivation to achieve her goals. Her penchant for equity and access, a desire to abide by value system and to stick to an ethical path have enabled her to create a brand name – Chitkara – in the field of education.