School Leadership
Chitkara International School takes pride in its excellent team of educationists and has outstanding achievements in their chosen fields.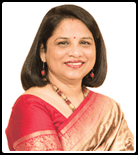 Dr. Madhu Chitkara
Chairperson, Chitkara International School
Dr. Madhu Chitkara, co founder of the Chitkara Educational Trust, with a mission to bring excellence in the field of education has actively contributed to its stupendous growth and recognition.
She is a B.Sc in Mathematics (Honours) from Matreyi College for Women, New Delhi and completed B.Ed and M.Ed from Panjab University in 1976 and 1977 respectively. She is also equipped with a degree in M.Sc (Mathematics) from Panjab University in 1980 and then subsequently a Ph.D in 1984.
In recognition of her exemplary services, she was honoured with the State Award for Teachers as a teacher of outstanding merit in 1987. Dr. Madhu Chitkara was the first woman to be trained at TTTI on the BBC Microcomputer Systems, a series of microcomputers and associated peripherals designed and built by Acorn Computers for the BBC Computer Literacy Project in 1987. She then proceeded to train others in the U.T. on this technology. Apart from this, she has also imparted training in CAI (Computer Aided Instruction) as well as National Policy of Education.
With a passion for academics, Dr. Madhu Chitkara, Chairperson of Chitkara International School has had a diversified career spanning 35 years. Her main aim is bringing excellence in the field of education. She believes that education in the largest sense is any act or experience that has a formative effect on the mind, character and physical ability of an individual. Recently, Dr. Madhu Chitkara has been honored with South East Asia Award for being one of the most Successful Entrepreneurs by Washington School of Business through its Hot Mommas Project. Hot Mommas is the World's Largest Library of Women Entrepreneurs Case Studies managed and initiated by Washington School of Business, University of Washington. She is the Regional Winner of this award from South East Asia.
Dr. Niyati Chitkara
Principal, Chitkara International School
Author, Assessment Quotient
Dr. Niyati Chitkara, the Principal of Chitkara International School, visions to create a sense of integrity, dignity and confidence to face life's challenges amongst young learners, has actively contributed to the growth of the school.

Dr. Niyati Chitkara has completed her doctorate in school based assessment including the Continuous Comprehensive Evaluation. She holds 12 years of experience in the field of education. Her educational accreditations includes; an M.Ed. topper from Panjab University, one of the top ten rank holders during her Bachelors of Education and a gold medalist in Masters of Commerce and Business Administration. She has written a book "Assessment Quotient – Efficient and Effective School Learning Paradigms for Generation Z and Generation Apha Learners, published under Germany's renowned and well famous publishing house Lambert Academic Publishing. Dr. Niyati is a certified IB Trainer for Primary Year Programme, certified Inlingua Trainer; who headed Inlingua International School of Languages, Chandigarh in the past. British Council has certified her as a trainer for Business English Courses and Infosys also certified her as a trainer for its Campus Connect Programme. CAER (Center for Assessment Evaluation and Research), Pearson, recognized & certified her for designing rubrics for assessments and multiple choice item writing. Dr. Niyati was one of the fourteen speakers at the CBSE-CAER International Conference 2014 in New Delhi. She was also invited as one of the key speaker in a forum organized by Funtoot on "Personalized Learning". She has been an invited panelist in School Leadership Summit 2015 organized by Digital Learning.
Her research papers on "Confidence Level in Multiple Choice Tests Leading to Increase in Reliability and Decrease in Standard Error of Measurement" and "Assessing Scholastic and Non-Scholastic areas of learning" were covered in International Journal of Information Technology and Business Management and Educationia CONFAB respectively . The research done by her has been primarily in the area of school assessments. Her papers on "Corporal Punishment" and "Future Classroom" made her gold medalist in her Masters of Education Programme. She also submitted a dissertation on "Occupational Stress of teachers teaching under graduate classes in relation to their emotional intelligence". Her innovative and distinct approach in providing global platform for students made her a Bill Gates & Melinda Gates Scholar in TEDActive 2014 Conference in Canada.
Dr. Niyati's prime focus has been towards making learning more engaging for the students and make them future ready. She has conducted many workshops on child development and was covered by Doordarshan, Chandigarh as a Young Entrepreneur. This speaks volumes of her commitment and her passion for education. Dr. Niyati has also conducted many workshops on child development too. Her thoughts on school education were recently covered in QUEST – an initiative of The Indian Express and SMART People magazine. Print Media and Doordarshan have also covered as the Top Shot and Young Entrepreneur of Chandigarh respectively.